While listening to Season 1 of the Radical Candor Podcast, you may hear references to the Candor Coach App or the Candor Gauge. These are no longer available.
Starting with Season 2 the Radical Candor Podcast features Kim Scott and Jason Rosoff, is hosted by Amy Sandler and is written and produced by Brandi Neal.
To see the show notes for each episode, click on the title of each episode below. Subscribe wherever you listen to podcasts, to get updated automatically when new episodes drop.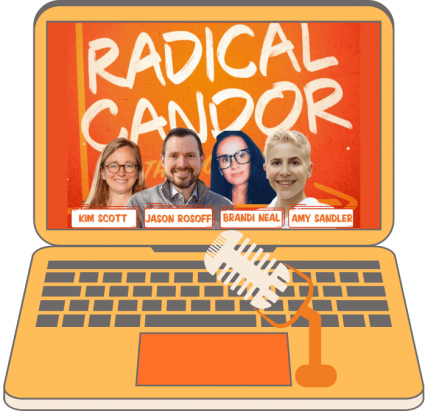 In this episode of the Radical Candor podcast Kim and Jason answer listener questions and share their experiences about being a boss who's younger than their direct reports and having their wings clipped by an absentee manager who isn't invested in their success. They also agree that chair-throwing management styles aren't an effective way to get things done (as Kim learned when she threw her bike helmet at a window when dealing with a bad boss at a former job). While command-and-control workplaces make for great fiction (and podcast stories), they're awful in real life. Press play for actionable advice on how to move from command and control to collaboration.
Listen to the episode: