While listening to Season 1 of the Radical Candor Podcast, you may hear references to the Candor Coach App or the Candor Gauge. These are no longer available.
Starting with Season 2 the Radical Candor Podcast features Kim Scott and Jason Rosoff, is hosted by Amy Sandler and is written and produced by Brandi Neal.
To see the show notes for each episode, click on the title of each episode below. Subscribe wherever you listen to podcasts, to get updated automatically when new episodes drop.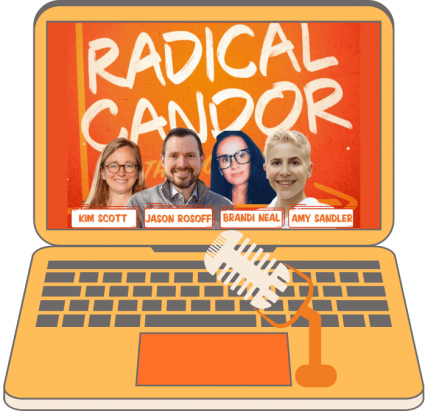 Suddenly the leader of a remote team due to COVID-19? Or maybe you're an individual contributor who feels abandoned by your manager. On this episode of the Radical Candor podcast, Kim, Jason and Amy talk about how to effectively check in with teams of all sizes while working remotely. Plus, what happened to Russ? Who are Amy and Jason? Listen to find out!
Listen to the episode: