While listening to Season 1 of the Radical Candor Podcast, you may hear references to the Candor Coach App or the Candor Gauge. These are no longer available, but we trust you'll find lots of other useful Radical Candor tips.

Starting with Season 2 the Radical Candor Podcast features Kim Scott and Jason Rosoff, is hosted by Amy Sandler and is written and produced by Brandi Neal. Subscribe on Apple Podcasts, or wherever you listen to podcasts.

To see the show notes for each episode of the Radical Candor Podcast, click on the title of each episode below.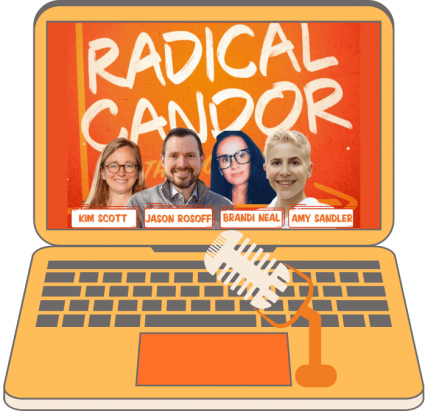 On this episode of the Radical Candor podcast, we're bringing back our Radically Candid Conversations series. Amy talks to Kim Scott about her new book Just Work: Get Sh*t Done, Fast & Fair, and her new company Just Work that she's launching with Trier Bryant. Kim and Trier break down how to recognize, address and eliminate bias, prejudice and bullying in the workplace to create more just working environments. Buy the book, learn about the company and listen to the podcast to learn why just work environments aren't just the right thing to do, they're also good for business.
Listen to the episode: