While listening to Season 1 of the Radical Candor Podcast, you may hear references to the Candor Coach App or the Candor Gauge. These are no longer available.
Starting with Season 2 the Radical Candor Podcast features Kim Scott and Jason Rosoff, is hosted by Amy Sandler and is written and produced by Brandi Neal.
To see the show notes for each episode, click on the title of each episode below. Subscribe wherever you listen to podcasts, to get updated automatically when new episodes drop.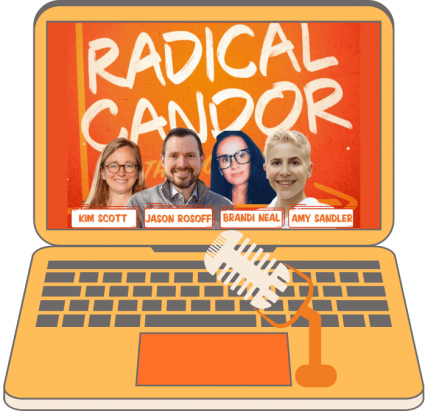 In its most basic form, Radical Candor is a framework to facilitate communication that is kind, clear, specific and sincere. It's about being able to Care Personally and Challenge Directly at the same time. While this kind of communication is always important for building trust and maintaining relationships, it's even more important during a crisis when anxieties are heightened and everything is uncertain. Kim, Jason and Amy unpack how to Challenge Directly during a crisis without losing your humanity.
Listen to the episode: