While listening to Season 1 of the Radical Candor Podcast, you may hear references to the Candor Coach App or the Candor Gauge. These are no longer available.
Starting with Season 2 the Radical Candor Podcast features Kim Scott and Jason Rosoff, is hosted by Amy Sandler and is written and produced by Brandi Neal.
To see the show notes for each episode, click on the title of each episode below. Subscribe wherever you listen to podcasts, to get updated automatically when new episodes drop.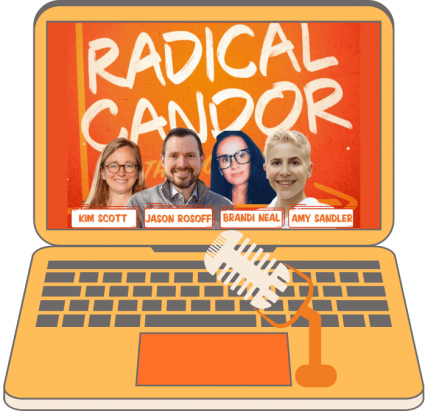 Welcome to the Radical Candor podcast's first mini-episode. We'll be posting these bite-sized 5-10 minute mini Radical Candor podcast episodes between regular episodes. These quick hits will feature Kim Scott, Radical Candor author and co-founder, giving actionable tips that allow you to put specific parts of Radical Candor into action immediately. In this first mini-episode, Kim breaks down the principles of Radical Candor in six minutes. Radical Candor is Caring Personally while Challenging Directly. At its core, Radical Candor is guidance and feedback that's both kind and clear, specific and sincere.
Listen to the episode: