While listening to Season 1 of the Radical Candor Podcast, you may hear references to the Candor Coach App or the Candor Gauge. These are no longer available.
Starting with Season 2 the Radical Candor Podcast features Kim Scott and Jason Rosoff, is hosted by Amy Sandler and is written and produced by Brandi Neal.
To see the show notes for each episode, click on the title of each episode below. Subscribe wherever you listen to podcasts, to get updated automatically when new episodes drop.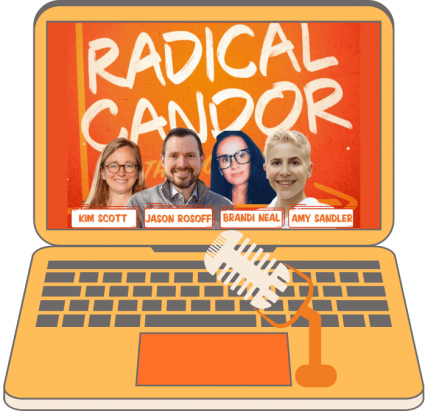 On this episode of the Radical Candor podcast, Kim and Amy welcome Amy C. Edmondson, the Novartis professor of leadership and management at the Harvard Business School and author of several books, including The Fearless Organization: Creating Psychological Safety in the Workplace for Learning, Innovation, and Growth and Right Kind of Wrong: The Science of Failing Well — available now! From managers seeking to inspire their reports to parents wanting to model a healthy failure mindset for their kids, this book will revolutionize how we think about failure.
Listen to the episode: