While listening to Season 1 of the Radical Candor Podcast, you may hear references to the Candor Coach App or the Candor Gauge. These are no longer available.

Starting with Season 2 the Radical Candor Podcast features Kim Scott and Jason Rosoff, is hosted by Amy Sandler and is written and produced by Brandi Neal.

To see the show notes for each episode, click on the title of each episode below.

Subscribe on Apple Podcasts, or wherever you listen to podcasts, to get updated automatically when new episodes drop.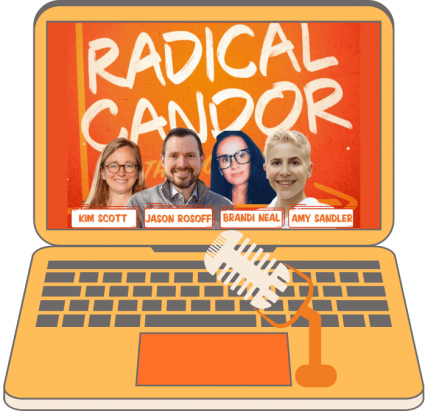 On this episode of the Radical Candor Podcast, Kim, Amy and Jason discuss how to make work less like junior high by implementing something Fred Kofman — Kim's coach at Google — calls clean escalation. Clean escalation dictates managers not allow people to talk about one another to them behind each other's backs and not engage in office gossip. 
Listen to the episode: