Radical Candor Resources for a More Radically Candid You
Based on the bestselling book
Radical Candor,
which launched a global management revolution, our suite of feedback fixes can help you level up your feedback skills at work. Take a course, watch a video, start a book club, listen to the podcast, read our e-guides, and more. We have everything you need to become a more Radically Candid friend, colleague and partner. 
The Feedback Loop Self-Paced Radical Candor e-Course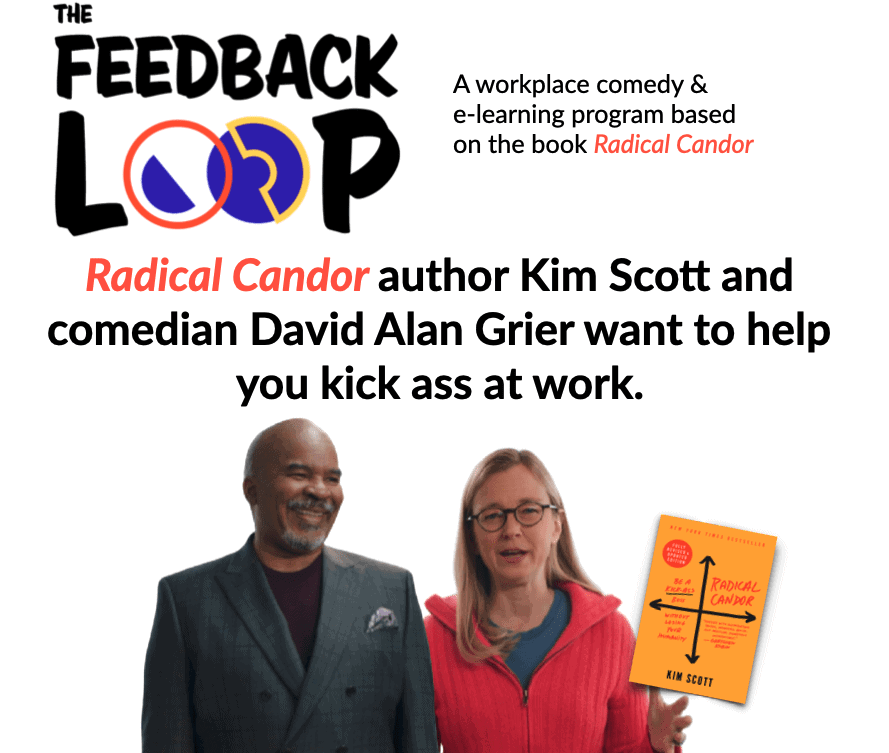 What: The Feedback Loop, an original workplace comedy series starring Kim Scott and David Alan Grier and an accompanying digital learning program.
Where: Your computer.
When: Work at your own pace.
How Much? Sign up now and get 10% off the already low price of $59. Enter code FEEDBACK at checkout.
You'll Get: An hour of hilarious content about a team whose feedback fails are costing them business, delivered over 5 episodes. Quizzes and action plans you can put into practice immediately.
Radical Candor is on 'Sessions by MasterClass'
What: Kim Scott, Jason Rosoff and Radical Candor role players deliver the principles of our feedback framework in 8 structured sections on Sessions by MasterClass. 
Why: Set yourself on a path for personal and professional growth, learn how to have productive conversations using Radical Candor principles, and acquire the tools to transform your mindset.
Where: Your computer.
When: You decide!
How Much? Save 20% when you use the link MasterClass.com/RadicalCandor.
Get the 1-Hour Radical Candor LIT Videobook
What: Learn how to Care Personally and Challenge Directly on the fly when you experience Radical Candor as a 1-hour videobook with animation, interviews, and more. 
Why:

Informal, pervasive guidance and feedback are clutch to a radically candid work environment. And it always starts with you.

Where: Your computer.
When: You decide!
How Much? $25
Radical Candor Feedback Training for Teams & Companies
Through storytelling, a trained Candor Coach will introduce you and your team to the core Radical Candor concepts and a shared vocabulary as well as tips and techniques that demonstrate for your team how Radical Candor can become an integral part of their success at work.
Digital Radical Candor Feedback Training Courses
Learn From the Expert
Embark on an hour-long animated learning adventure with the Radical Candor expert Kim Scott. Kim will guide learners through 10 snack-sized sections explaining how to apply the principles of Radical Candor and how to avoid feedback fails.
Knowledge checks at the end of each section reinforce this new set of communication skills that can be implemented immediately. Available for companies with their own LMS.
The Feedback Loop: A Workplace Comedy Series
Radical Candor and Second City Works introduce The Feedback Loop (think Groundhog Day meets The Office), a 5-episode workplace comedy series that brings Radical Candor's feedback framework to life.
You'll get an hour of hilarious content about a team whose feedback fails are costing them business; improv-inspired exercises to teach everyone the skills they need to work better together; after-episode action plans you can put into practice immediately.
The program easily scales across in-person and remote organizations. Individual licenses start at $59 a person.
Radical Candor author Kim Scott, or a trained Candor Coach, will introduce key Radical Candor concepts, providing tips and tactics to get you started on your Radical Candor journey.
Train-the-Trainer Workshop
Facilitate certified Radical Candor workshops within your organization using our copyrighted training materials. One of our Radical Candor experts will train up to 20 people to deliver Radical Candor workshops during this workshop.
Radical Candor Content Licensing
Get unlimited access to our Radical Candor copyrighted content, including training decks and workshop materials, to use across your organization. The annual fee is scaled based on the size of your company.
After the Radical Candor training, I had an employee come to me and say, 'I can see a total change in my manager. I went from barely speaking to him to meeting with him on a regular basis. I went from being uncertain about my future at Heitman to now being confident that I can fulfill my career goals.'" — Heitman
Videos to Help You Learn the Feedback Framework
Radical Candor In 6 Minutes
Learn the basics of Radical Candor in six minutes. Obnoxious Aggression is what happens when you challenge someone directly, but don't care about them personally. Manipulative Insincerity is praise that is non-specific and insincere or criticism that is neither clear nor kind. Ruinous Empathy is "nice" but ultimately unhelpful or even damaging. Radical Candor is criticism that is kind and clear, and praise that is specific and sincere.
Mini Keynote With Kim Scott
Kim breaks down the concepts on Radical Candor, provides specific stories and examples, and reveals the two incidents that prompted her to bottle the magic of Radical Candor and share it with the world. Radical Candor not only become a best-selling book, but it's also blossomed into a company creating BS-free zones at workplaces around the world.
The Talk that Started a Revolution
Kim's talk at First Round Capital went viral and started a feedback revolution around the world. Why? Because implementing a feedback-first culture will improve your relationships and help your team achieve more success than you ever thought possible. Next, Kim is tackling bias and bullying in the workplace. Order her new book, Just Work: How To Root Out Bias, Prejudice, and Bullying to Create a Kick-Ass Culture of Inclusivity, to learn how we can recognize, attack, and eliminate workplace injustice ― and transform our careers and organizations in the process.