Radical Candor and the Candor Canary at Gem
We have a great story to share with you about a company that rolled out Radical Candor in their organization. Gem, a Los Angeles based blockchain company focused on healthcare and supply chain, recently introduced their 20-person team to Radical Candor and developed a really fun way to recognize their successes. Read on for ideas on rolling out the framework with your team!
—
As People Operations Manager at Gem, Madeline Mann had been hearing some feedback from the team about the company culture, but she couldn't quite put into words what the consensus was. Then a colleague sent her a link to Radical Candor, and as soon as she saw the 2×2 framework, it became obvious: the company's penchant for Caring Personally was leading them into Ruinous Empathy territory.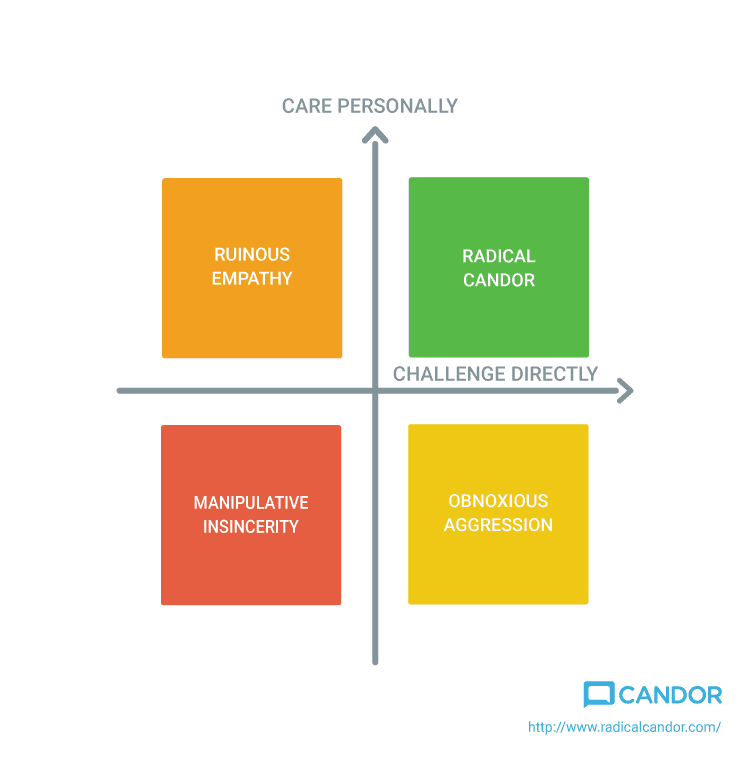 To help the team learn about Radical Candor and start moving in the right direction, Madeline kicked off a four week facilitation based on the Radical Candor articles, book, and podcasts. First, she introduced the concept of Radical Candor and the four quadrants, and asked the team to think about their company culture. Where on this 2×2 were interactions at Gem more likely to fall? The team opened up and agreed that they had an unparalleled ability to Care Personally, but that they often failed to Challenge Directly. It was clear to everyone that most interactions at Gem fell firmly in the Ruinous Empathy quadrant.
For the remaining weeks of the facilitation, the team at Gem spent 10 minutes of their weekly all-company meeting to focus on Radical Candor. They introduced new tenants of Radical Candor, shared observations and stories from their week, and gave out an assignment for the week.
For example, one of the weekly assignments for the team was to give Radical Candor to their lead. The team used some tips from Radical Candor Episode 8: How to Give Feedback to Your Boss to help them.
Assume good intent
Ask questions to understand their situation
Get the context

Try "I'm not sure I agree with that, are you open to another perspective?"
At the end of every week, team members rated the interactions that they and the rest of the team had that week. Had they still been in Ruinous Empathy territory, showing they Cared Personally but not Challenging Directly? Or had they moved towards Radical Candor and been able to both Care Personally and Challenge Directly? Here's how they rated their interactions over the course of the facilitation: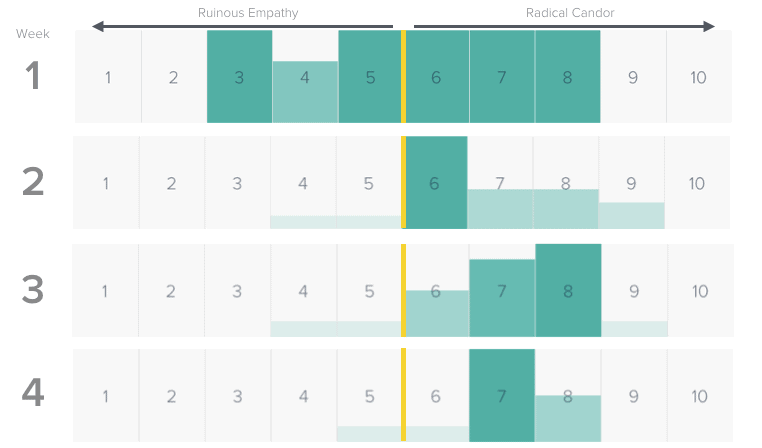 This exercise got team members reflecting on their week and thinking critically about how well they felt both themselves and the team were embodying Radical Candor. They also shared some of the techniques that were working for them to Challenge Directly. For many people on the team, having the shared understanding of Radical Candor, and the term to describe it, made it easier. They would state their intention of offering Radical Candor before giving pointed feedback as a way to quickly acknowledge, "I'm a little uncomfortable saying this, but I'm doing it because I care."
I'm a little uncomfortable saying this, but I'm doing it because I care.
As a way to encourage and reward their progress beyond the four weeks of facilitation, the Gem team decided to elect one person each week who had excelled at Caring Personally and Challenging Directly. They award this person the "Candor Canary" trophy, a name they chose because canaries are known for constantly singing and being heard. And unlike a dog's bark or a crow's caw, a canary's song is beautiful and welcomed, just like thoughtful feedback.
Congrats to Scott Hoch, Gem's inaugural Candor Canary winner!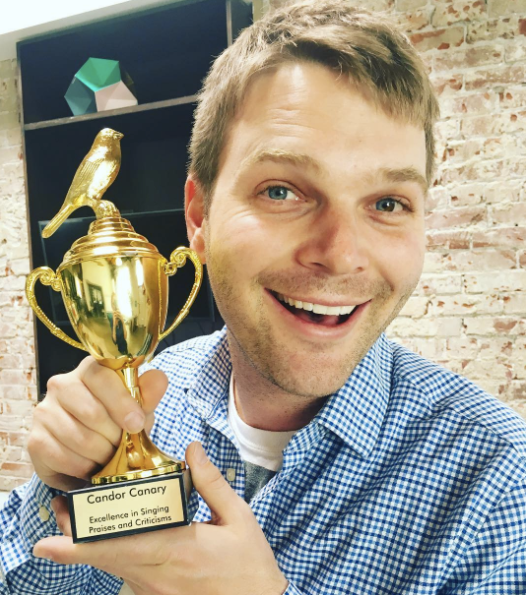 Every week the previous winner of the Candor Canary trophy brings it to the all-company meeting and passes the trophy to someone they saw display great Radical Candor. They share the specific example of the new winner's excellent candor, so that they can illustrate what success looks like — following the HIP approach of using public praise to help everyone learn.
Now that the facilitation is over, the team continues to practice and work towards Radical Candor. Madeline has seen that the Radical Candor ideas and facilitation have helped team members build the habit of speaking up instead of being a nodding head. Team members have reported coming out of meetings and immediately jumping into feedback conversations about how it went. As one employee put it, "At the very core, it has given the team permission to be more candid."
—
Thank you to Madeline Mann and Gem for sharing this story! We look forward to hearing more about your Radical Candor journey.
Does your company have a Candor Canary equivalent? We'd love to hear about how you're rolling out Radical Candor!