What If You Need to Interrupt?
In episode 12 of the Radical Candor podcast, Kim and Russ talked about how to give feedback to someone who frequently interrupts in meetings. Then a few weeks ago, we also shared advice for how to stop your own habit of interrupting. There's one more question we've been getting about this topic…What if you need to interrupt someone?
How do you go about gently telling a person that's speaking for way too long in a meeting, that his time's up? And how do we do this without interrupting?
Both Kim and Russ weigh in on this question.
Kim says:
When this happens in a meeting, I think there are a few options. If you're in front of a group giving a presentation, it can be useful to walk up to the person, so you're sort of blocking them from the rest of the group with your body, say thanks, and call on somebody else.
If you're around a table, I'd say something like, "I want to make sure everyone has a chance to speak."
Russ's thoughts:
I would agree with Kim, but I would reserve these approaches for times when the person has really been stealing the show over and over in that meeting. If that's the case, I would first try Kim's "interrupt with body language" idea. Then when the person takes a breath, make the point that you and the group want to hear from others. You can immediately facilitate to other people, almost like a pre-emptive interruption. So this might mean that you've been watching others' body language and noticed someone who has something to add, and you serve the conversation in their direction.
Another little trick: as you facilitate a new question in the meeting, do what my teachers did in elementary school and say, "What do you think, and someone other than Timmy this time." It makes Timmy feel like he's contributing and also sends the message for him to ease back and for others to step up.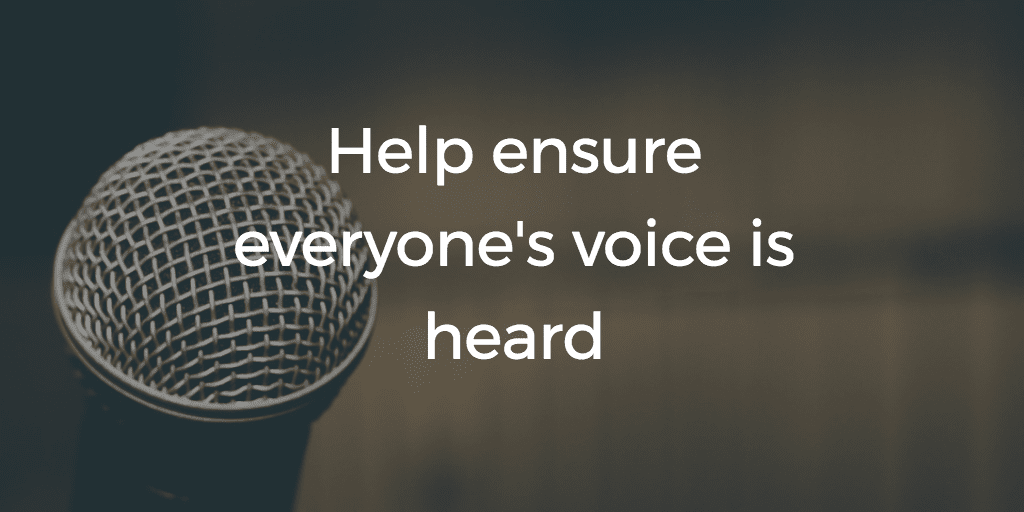 After the meeting, and especially if the person is a repeat offender, I think it's time to offer some feedback. Something like, "You have valuable input and I don't want that to stop, but I think you're taking a little too much airtime in our meetings." Remember to only say these things if they are true! If you'd like, show some research about the most effective teams sharing airtime. You can finish with, "I want to reiterate that your input is valuable, but we need to give others a chance, too. Can you help with that?"
An important guideline to remember: don't criticize in public. Make sure you're communicating this feedback to the person after the meeting, in private, rather than in front of the whole team. Realize that while it's frustrating that the person is talking too much, you do have to be careful about losing his engagement. Offering a correction at all, even if necessary, presents a risk of him retreating. Offering that correction in front of everyone almost guarantees he will retreat.
—
What ways have you tried to make sure that everyone's voices are heard in meetings? Share your tips with us in the comments below!