A HIP Approach to Feedback: 6 Tips to Help You Practice Radical Candor
We're all about helping people become more Radically Candid with their feedback. By feedback, we mean praise and criticism. Being Radically Candid means:
Being more specific and sincere with praise
Being more kind and clear with criticism
This will improve your relationships at work AND help you achieve a better business result. But it's easy for us to give this advice and hard for you to do it.
Here's a way to think about how to be more kind and clear with criticism and more specific and sincere with praise. Radical Candor is HIP:
H

umble

H

elpful

I

mmediate

I

n person

P

rivate criticism /

P

ublic praise
Not about 

P

ersonality
Below is a brief explanation of what these elements mean. In additional posts, we'll dive into more detail and provide specific tips you can use for each section.
BUT, A NOTE OF CAUTION: Whatever you do, don't sit there saying nothing trying to remember what "I" stands for. For the vast majority of people, the important thing is to just say it!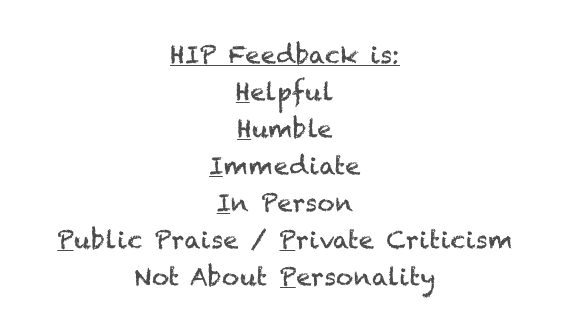 Be
H

umble

You can't Care Personally or Challenge Directly if you're not humble. First, it's hard to care at a personal level about somebody if you think you're superior. And you can't Challenge Directly and be open to the reciprocal challenge if you're not humble enough to realize you may be wrong. By humble we don't mean you have to grovel or pretend to be worse than you are. We just mean that you need to have the possibility top of mind that whatever you're saying may be wrong. Don't be arrogant. Be curious. Deliver your feedback firmly and with supporting rationale, but be open to push-back. Listen with true intent to understand so that you get a full command of both perspectives before agreeing or disagreeing.
Be
H

elpful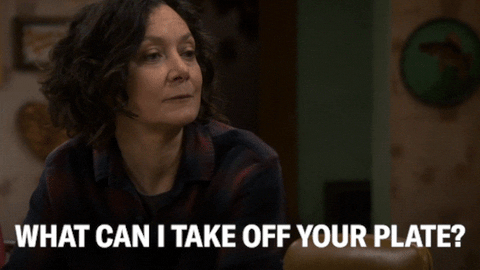 It's easy for us to say "be helpful". It's obvious that being helpful is the whole point of Challenging Directly and that it's a great way to show you Care Personally. Still, it's hard for you to do it. You don't have a lot of time, and you don't have all the answers! The good news is that being helpful doesn't mean you have to be omniscient or to do everybody else's work for them. It just means you have to find a way to be as clear as possible and to offer that clarity as a gift.
Give Feedback 
I

mmediately

When you give feedback immediately, you save yourself the burden of remembering to give it later, and, since the details are all fresh in your mind, you are able to be much more specific. You also give the person a better chance to improve immediately. If you offer immediate impromptu feedback, it really won't take too much time, though it might occasionally make you a couple minutes late to your next meeting.
Give Feedback 
I

n Person (if possible)

Remember, the clarity of your feedback gets measured not at your mouth, but at the other person's ear. That's why it's best to deliver feedback in person. Since upwards of 90% of communication is non-verbal, you won't really know if the other person understood what you were saying if you can't see the reaction. When talking in person, you can make adjustments based on their body language and emotions. If they are not hearing you, you need to move further out on the "Challenge Directly" axis. If they are upset, you need to move further up on the "Care Personally" axis — without backing off your direct challenge!
Praise in
P

ublic, Criticize in

P

rivate

A good rule of thumb for feedback is praise in public, criticize in private. Public criticism tends to trigger a defensive reaction and make it much harder for a person to accept they've made a mistake and to learn from it. Public praise tends to make the recipient feel great, and it encourages others to emulate whatever they did that was great. But, it's a rule of thumb, not a hard and fast rule.
Don't Make Your Feedback About 
P

ersonality

There is a big difference between Caring Personally and talking about personality when giving praise and criticism. Make your feedback about the work the person has done, rather than about the person. "I think that's wrong" is more effective than "You're wrong." And "That was a great presentation because X, Y, Z" is more beneficial than "You're great at presentations!"

Hopefully this introduction to the HIP approach is helpful. You can also watch my interview with FemgineerTV, where I talk through each of these ideas (starting around 14:30).

To read the full articles about each of these tips, click the links below!

Give Immediate Feedback: Tips and Reminders

Praise in Public, Criticize in Private

Don't Give Feedback About Personality

*This post was updated April 6, 2022

————————————————————————————————————————————————————————————–

Sign up for our Radical Candor email newsletter >>
Shop the Radial Candor store >>
Book a keynote or workshop >>

Need help practicing Radical Candor? Then you need The Feedback Loop (think Groundhog Day meets The Office), a 5-episode workplace comedy series starring David Alan Grier that brings to life Radical Candor's simple framework for navigating candid conversations.

You'll get an hour of hilarious content about a team whose feedback fails are costing them business; improv-inspired exercises to teach everyone the skills they need to work better together, and after-episode action plans you can put into practice immediately to up your helpful feedback EQ.

We're offering Radical Candor readers 10% off the self-paced e-course. Follow this link and enter the promo code FEEDBACK at checkout.