While listening to Season 1 of the Radical Candor Podcast, you may hear references to the Candor Coach App or the Candor Gauge. These are no longer available.

Starting with Season 2 the Radical Candor Podcast features Kim Scott and Jason Rosoff, is hosted by Amy Sandler and is written and produced by Brandi Neal.

To see the show notes for each episode, click on the title of each episode below.

Subscribe on Apple Podcasts, or wherever you listen to podcasts, to get updated automatically when new episodes drop.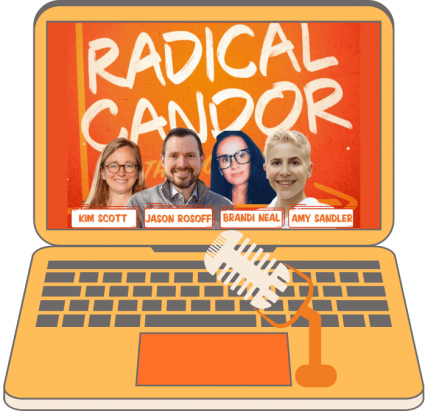 On this episode of the Radical Candor podcast, Kim, Jason and Amy discuss one of the most perplexing management dilemmas you might experience: when a person who ought to be taking on more and more responsibility and performing better every day is instead doing the opposite. This person is doing excellent work on a steep growth trajectory — maybe they even want to be your boss someday — and you've put in charge of the most important work or assigned them to solve your most difficult problems because they're just that good. So why are they flailing instead of flying? We've seen this happen for five different reasons. Plus, organizations we're supporting for humanitarian relief in Ukraine. 
Listen to the episode: