While listening to Season 1 of the Radical Candor Podcast, you may hear references to the Candor Coach App or the Candor Gauge. These are no longer available.

Starting with Season 2 the Radical Candor Podcast features Kim Scott and Jason Rosoff, is hosted by Amy Sandler and is written and produced by Brandi Neal.

To see the show notes for each episode, click on the title of each episode below.

Subscribe on Apple Podcasts, or wherever you listen to podcasts, to get updated automatically when new episodes drop.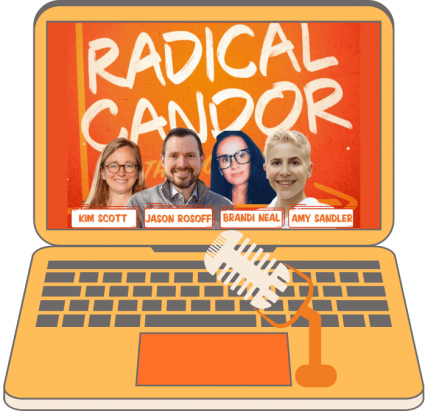 Once your idea has been implemented, you probably think you're done with this whole Get Shit Done Wheel thing — but there's one more step, Learn. On this episode of the Radical Candor Podcast, Kim, Jason and Amy talk about how creating a culture of learning can make it safe for people to fail, help mitigate future mistakes and ensure everyone knows how to repeat success. Sounds simple, right? Not so fast. There are two things that can get in the way of learning. Listen to find out what they are!
Listen to the episode: