Kim recently asked her social media followers about great bosses they've had. What was it that made those bosses so great? Here's our round up of responses!
From Twitter (follow @candor!):
-real-time feedback (good, bad, ugly)
-strong values, clear motives
-curious, learns from team
-not authoritative
-empowering
-passionate

— 🏋🏼‍♀️emel mutlu (@itisemel) September 30, 2016
My best boss drilled into me that "feedback is a gift".

— Richard Dalton (@mauvyrusset) October 1, 2016
My great boss gave me room to try new things and stretch my wings. I got to see what I'm really capable of doing. #ux

— Jody (@jh360) October 1, 2016
he helped me see my role as part of the whole team: to value my contribution and identify where I needed others' talents.

— Bronwyn Lea (@bronleatweets) October 1, 2016
Genuine care, robust conversations, mutual development #bebetter cc: @gerfinn

— Rob 🇮🇪🇧🇷🏳️‍🌈 (@rob183) October 1, 2016
From LinkedIn (follow the Candor company page!):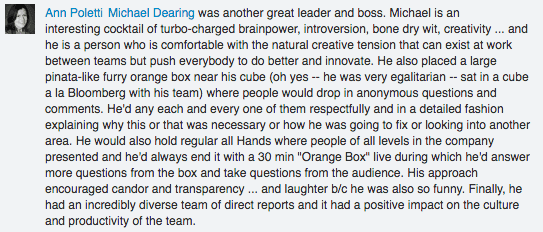 What about you? Have you had a great boss? Share their great boss attributes in the comments below!