10 Free Resources to Help You Practice Radical Candor
"Getting and giving impromptu feedback is more like brushing and flossing than getting a root canal," Radical Candor author and co-founder Kim Scott says. "Don't schedule it. Just ask for it and offer it consistently and immediately when it's needed, and maybe you won't ever have to get a root canal."
But if you're not in the habit of flossing every day, starting the routine is going to take some discipline and practice. Soliciting and providing feedback is the same way.
That's why we've developed these guides for practicing Radical Candor. Feedback conversations don't have to be painful like having a root canal — they can be maintenance like brushing and flossing.
If you commit to having regular fast and frequent feedback conversations with your team members, eventually these interactions will become second nature.
Until then you can refer to these free Radical Candor topic-specific resource guides to help you when you get stuck.
The Radical Candor Quick Start Guide
This one-page quick-start guide gives you the quick and dirty on Radical Candor complete with definitions for the quadrants and the order of operations. Print it out to keep at your desk! Download the guide >>
The Radical Candor Practice Playbook
So, you've read the book, listened to the podcast, watched the videos and attended a workshop or keynote. Now what? Continue developing your skills with our Radical Candor Practice Playbook, a workbook that takes you through each step of the Order of Operations. Download the playbook >>
5 Tips for Practicing Radical Candor with Direct Reports
Your ability to build trusting, human connections with the people who report directly to you will determine the quality of everything that follows. Despite these relationships being vitally important, most of us are at a loss when we set out to build relationships with our direct reports. Download the guide >>
6 Ways to Encourage Feedback Between Others
It's a lot easier to lead by example than it is to change other people's behavior. If you want to encourage feedback between the people on your team or at your organization, you're going to have to create an environment where people feel safe and encouraged to give real feedback. Download the guide >>
Quick Start Guide: Encouraging Feedback
Encouraging feedback between others will facilitate stronger relationships between peers, allow for more praise to be shared and provide more perspectives on what's going well and why. Download the guide >>
The 'Radical Candor' Book Club Discussion Guide
We've put together this list of questions to get you started with your Radical Candor book club. Visit our book page to buy copies of Radical Candor in bulk at a reduced rate. After your club members have read the book, use the critical thinking questions to help guide the discussion. Download the guide >>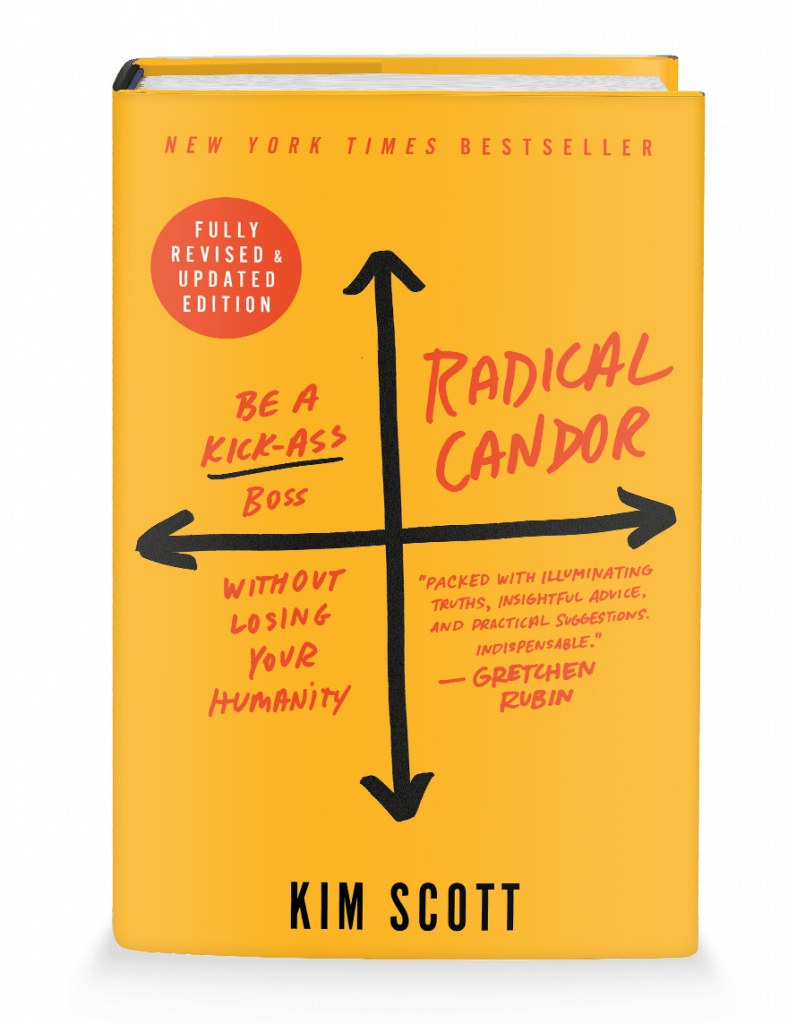 11 Ways for Managers to Get Feedback From their Team
As a manager, it's crucially important for you to get feedback and find out what people really think. Getting people to Challenge you Directly can be the difference between success and failure, which means you need to make a concerted effort to get feedback. Download the guide >>
6 Steps for Rolling Out Radical Candor On Your Team
Radical Candor builds trust and opens the door for the kind of communication that helps you achieve the results you're aiming for. If you're ready to introduce Radical Candor to your team, follow these six steps to roll it out like a boss. Download the guide >>
How to Have Radically Candid Performance Development Conversations
It is a manager's job to help each person on their team develop and grow their careers, as well as manage their performance. Balancing the intrinsic desire to improve and grow and the extrinsic desire for rewards like bonuses, equity, and promotion is one of the most difficult things about being a manager. We can help you navigate. Download the guide >>
Use the C.O.R.E. Model to Give Effective Feedback
Radically Candid praise and criticism both include caring and a challenge. In order to make sure your feedback lets the other person know what was good and what wasn't — what to do more of and what to do less of — use the four-step CORE method. Download the guide >>
————————————————————————————————————————————————————————————–
Sign up for our Radical Candor email newsletter >>
Shop the Radial Candor store >>
Book a keynote or workshop >>
Need help practicing Radical Candor? Then you need The Feedback Loop (think Groundhog Day meets The Office), a 5-episode workplace comedy series starring David Alan Grier that brings to life Radical Candor's simple framework for navigating candid conversations.
You'll get an hour of hilarious content about a team whose feedback fails are costing them business; improv-inspired exercises to teach everyone the skills they need to work better together, and after-episode action plans you can put into practice immediately to up your helpful feedback EQ.
We're offering Radical Candor readers 10% off the self-paced e-course. Follow this link and enter the promo code FEEDBACK at checkout.