3 Fun Ways to Learn Radical Candor and Actually Retain the Knowledge
Maybe you've heard folks talking about Radical Candor at work or on social media and you've been wondering what this whole kind-clear-specific-sincere feedback thing is all about. Are there Radical Candor e-learning courses and videos to get up to speed?
Of course, we want you to read the Radical Candor book! And, we also understand spending hours reading and processing information can be difficult. Many people I know are listening to more books than they're reading these days or are choosing to learn from short-form video content.
According to a 2019 study published in the journal Frontiers in Behavioral Neuroscience, 65% of the population learns through visual reinforcements, such as videos.
What's more, you're more likely to retain information from bite-sized e-learning courses than you are from traditional classroom learning.
We get it. That's why we have three short, easy and fun visual ways for you to learn the Radical Candor principles at your own pace.
Get all three, or choose the Radical Candor e-learning option that's best for you!
1. The Feedback Loop
A partnership between Radical Candor and Second City Works, The Feedback Loop (think Groundhog Day meets The Office) is a digital workplace comedy series that follows a pair of well-intentioned, but flawed leaders who realize the only way to stop repeating the same terrible work day is to act less like Michael Scott and more like Kim Scott by applying the principles of Radical Candor.
Binge-worthy, not cringe-worthy, this Netflix-style Radical Candor course includes:
An hour of hilarious content about a team whose feedback fails are costing them business, delivered over 5 episodes.
Improv-inspired exercises to teach you the skills you need to think more quickly on your feet and work more effectively with others.
Quizzes and action plans you can put into practice immediately.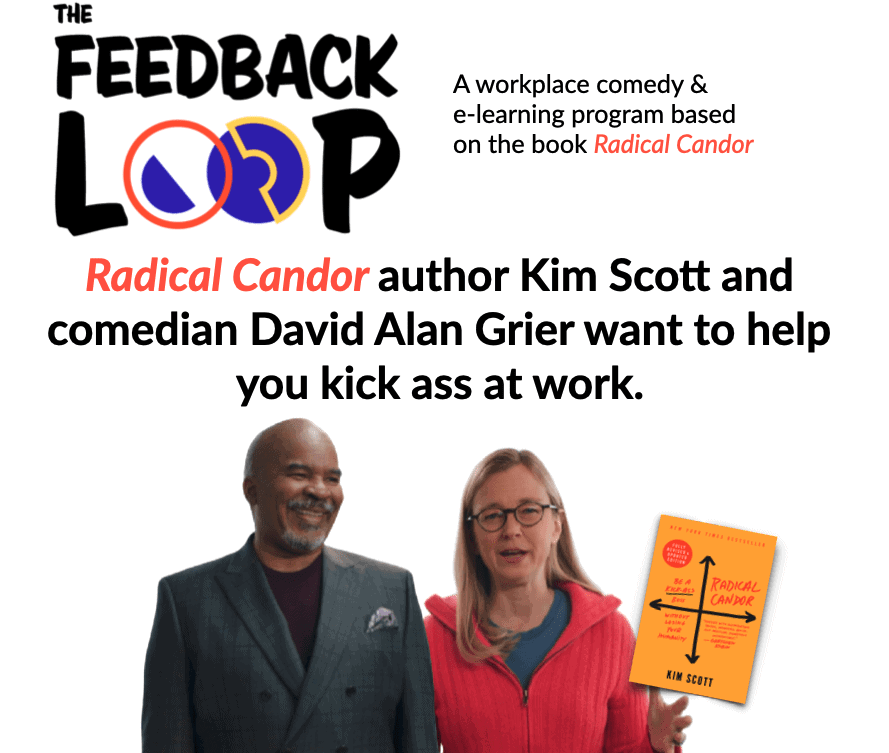 Giving and receiving feedback is crucial to your success, but we know it can be uncomfortable. So put on your PJs, get comfy on your couch, and Let's Get Radical! (Sorry, popcorn not included.)
A year-long license to watch the Radical Candor e-learning course and use the materials is only $59. Get 10% off when you use the code FEEDBACK at checkout. We hope you'll have just as much watching The Feedback Loop as we did making it!
"We're thrilled to partner with Second City Works to use improv and help people practice the art and science of Radical Candor in a way that's entertaining and educational," says Radical Candor author and co-founder Kim Scott.
"When Radical Candor is put into practice, communication flows, resentments that have festered come to the surface and get resolved, and people begin to love their work and the people they work with."
Buy The Feedback Loop >>
2. Radical Candor on 'Sessions by Masterclass'
We are so excited to announce that a Radical Candor MasterClass is finally here! MasterClass is 
the
 streaming platform where anyone can learn from the world's best across a wide range of subjects.
Sessions by MasterClass offers a structured curriculum where members can roll up their sleeves, get hands-on and learn meaningful skills through step-by-step guidance from world-class instructors and an active community of peers.
"We partnered with MasterClass to give learners an in-depth Radical Candor experience using their Sessions platform," says Jason Rosoff, co-founder and CEO of Radical Candor.
"Learners get to hear Kim cover the core concepts, see Radical Candor in action through vignettes, and get answers to the most common questions we've gotten over the last five years."
Join Kim, Jason, and their role-playing partners (including Candor Coach Lele Mason) to experience Radical Candor in action as you learn to tackle the hard conversations.
Through storytelling and demonstrations over eight class sections, you'll learn how to apply Radical Candor to your own life to become a more effective leader, colleague, and overall human.
Throughout the session, Kim uses real stories from her career and offers live demonstrations of Radical Candor in action.
This step-by-step guidance provides members with a better understanding of how to apply the techniques in their own lives to become more effective managers and leaders.
The session is broken down into eight sections, including:
Understanding Radical Candor
Soliciting and Receiving Feedback
Giving Praise and Criticism
Gauging How Feedback Lands
Coaching a Team Using Radical Candor
"Effective communication is the key to success in both the workplace and in everyday life," Kim says.
"In the Radical Candor session, members will learn how to have productive conversations using Radical Candor principles and will leave equipped with the tools to transform their mindset and set them on a path for personal growth."
Sign up for Radical Candor on Sessions by MasterClass >>
3. Radical Candor Lit Videobook
So you already know you can listen to books. But did you know you can watch them, too, in one hour or less?
In this documentary-style Radical Candor e-learning videobook about becoming a kick-ass boss or colleague, Kim explains the proven framework that eliminates the need for having to choose between being a jerk and a pushover.
Learn how to Care Personally and Challenge Directly on the fly through animation, interviews, and more. All of the concepts in the written book are condensed to give you a complete overview of Radical Candor in a fraction of the time.
Sign up for a free three-day LIT Videobook trial and start watching your books today.
Get the Radical Candor LIT Videobook >>
————————————————————————————————————————————————————————————–