Get Stuff Done: 4 Steps to Implementing Your Ideas at Work
*This article about how to successfully implement ideas is part of our new series about the Get Stuff Done (GSD) Wheel and has been excerpted from Radical Candor: Be a Kickass Boss Without Losing Your Humanity. Read the previous post about persuasion >>
As the boss, part of your job is to take a lot of the "collaboration tax" on yourself so that your team can spend more time implementing. The responsibilities you have as a boss take up a tremendous amount of time. 
One of the hardest things about being a boss is balancing these responsibilities with the work you need to do personally in your area of expertise.
Here are the four things I've learned about getting this balance right: Don't waste your team's time; keep the "dirt under your fingernails;" block time to implement and fight meeting proliferation.
Don't waste your team's time
In four years of working for Sheryl Sandberg, I can honestly say she never wasted a single moment of my time, and in fact, she saved enormous time for everyone who worked for her. She expected us to come to our 1:1s with a list of problems she could help us resolve. 
She'd listen, make sure she understood, and then she was like a sapper, an explosives expert. She defused some political situations that could have blown up in my face and she dispensed with seemingly insurmountable obstacles. No unnecessary meetings, no unnecessary analysis. 
She was never late to a meeting with me, and she wouldn't tolerate anyone being late to one of her meetings.
She'd make us have debates as a team, but just before they started to feel tedious, she'd identify a "decider," and ask that person to come back to the rest of us with a decision by a particular date. 
She was one of the most persuasive people I've ever met, and she taught those of us on her team to be more persuasive as well. When some ridiculous time-wasting mandate would come down from on high at Google, Sheryl would figure out a way to shield us from it. 
All of that protection gave everyone who worked for her a lot more time to implement. And when the results came in, they didn't escape Sheryl's sharp analytical mind — we had to learn from what we'd done, whether we succeeded or failed.
The reason why Sheryl's teams were so productive was that she was constantly putting us through our paces on the GSD wheel, but she was also constantly clearing the decks for us so we could spend as much time as possible getting stuff done.
Keep the "dirt under your fingernails"
Even though the burden of the collaboration tax falls on you as the boss, the tax shouldn't be 100%. In order to be a good partner to the people on your team, and in order to keep the GSD wheel spinning efficiently, you need to stay connected to the actual work that is being done — not just by observing others implementing but by implementing yourself. 
If you become a conductor, you need to keep playing your instrument. If you become a sales manager, you need to keep going on sales calls yourself. If you manage a team of plumbers, fix some faucets.
Of course, you need to spend time listening to people in 1:1s, leading debates, and so on. 
But you need to learn to toggle between leading and implementing personally. Don't abandon the first for the second; integrate the two.
If you get too far away from the work your team is doing, you won't understand their ideas well enough to help them clarify, to participate in debates, to know which decisions to push them to make, to teach them to be more persuasive. 
The GSD wheel will grind to a halt if you don't understand intimately the "stuff " your team is trying to get done.
Block time to implement
Often, implementation is a solitary task. We use calendars mostly for collaborative tasks — to schedule meetings, etc. 
One of your jobs as a manager is to make sure that collaborative tasks don't consume so much of your time or your team's time that there's no time to implement whatever plan has been decided on and accepted.
Implementation Time: Fight meeting proliferation
By now, the Get Stuff Done wheel may be starting to feel like the Meetings from Hell wheel. If you're not careful, meeting proliferation can indeed bring to a grinding halt your ability to implement both as an individual and as a team. 
Being ruthless about making sure your team has time to implement is one of the most important things you can do as a boss.
One approach that many have tried is to remove chairs from conference rooms. This has the theoretical impact of shortening meetings because most people won't stand around a table for more than about an hour. 
There is research indicating that people are more creative when standing than when sitting. Some say sitting is the new smoking, so there may be health benefits as well. Plus, you save money on furniture. 
This is all appealing, but it never really works. I don't know any company that has stuck to the no-chairs-in-conference-rooms thing. And it's even harder now when so many meetings are virtual and people are sitting in their own chairs at home.
At Google, different teams tried declaring "No-Meeting Wednesday" or "No-Meeting Thursday." None was ever able to stick to it. 
Greg Badros, an engineering leader at Google and Facebook, set a goal of ending 25% of his meetings early. I loved that, but I don't think he ever hit the goal. I have found that the most effective solution is simply to fight fire with fire. 
For the same reason, I blocked off think-time in my calendar. I also found it necessary to block off time in my calendar to be alone and implement. I encouraged others to do the same. This helped them say "no" to more unnecessary meetings.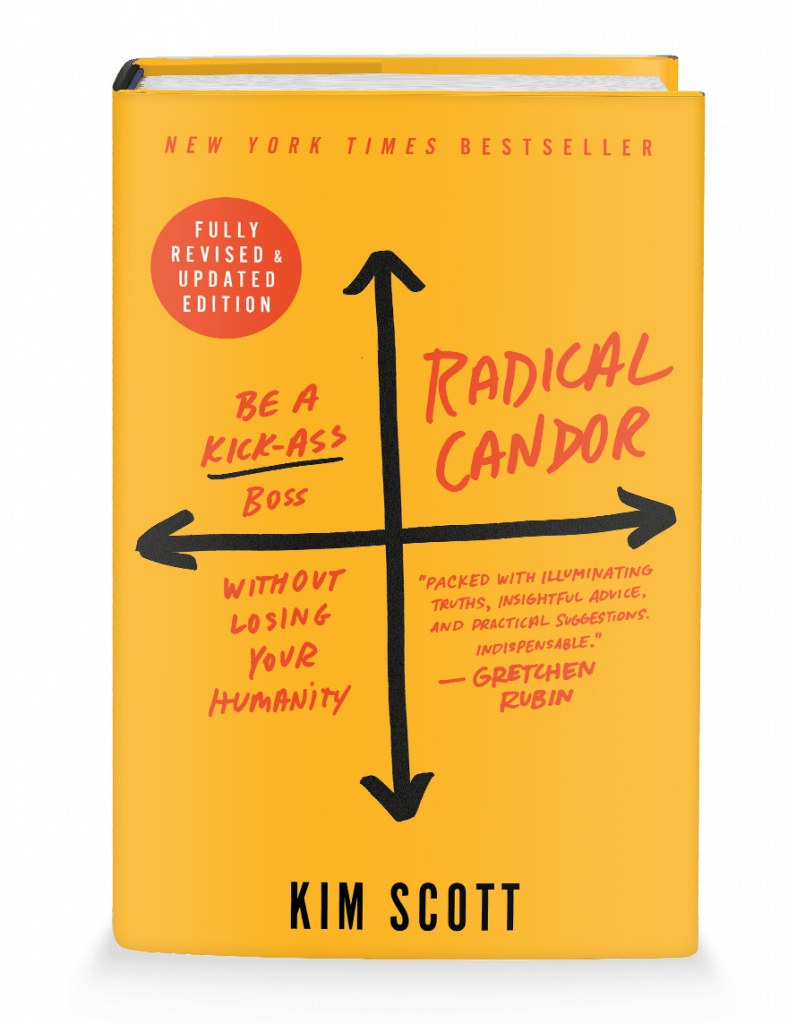 This post has been excerpted from Radical Candor: Be a Kickass Boss Without Losing Your Humanity (get bulk book discounts for teams!). Learn more about the GSD Wheel in chapter 4 of Radical Candor and download our reading guide to test your knowledge of the concepts as you go. Check back soon for the last step in the GSD wheel, Learn. (Read the previous post about persuasion >>)
————————————————————————————————————————————————————————————–
Sign up for our Radical Candor email newsletter >>
Shop the Radial Candor store >>
Need help practicing Radical Candor? Then you need The Feedback Loop (think Groundhog Day meets The Office), a 5-episode workplace comedy series starring David Alan Grier that brings to life Radical Candor's simple framework for navigating candid conversations.
You'll get an hour of hilarious content about a team whose feedback fails are costing them business; improv-inspired exercises to teach everyone the skills they need to work better together, and after-episode action plans you can put into practice immediately to up your helpful feedback EQ.
We're offering Radical Candor readers 10% off the self-paced e-course. Follow this link and enter the promo code FEEDBACK at checkout.