Tips to Avoid Manipulatively Insincere Praise
If you think you've given praise that was Manipulatively Insincere, check out these tips for moving towards Radical Candor!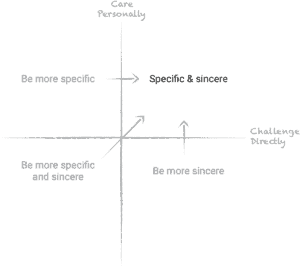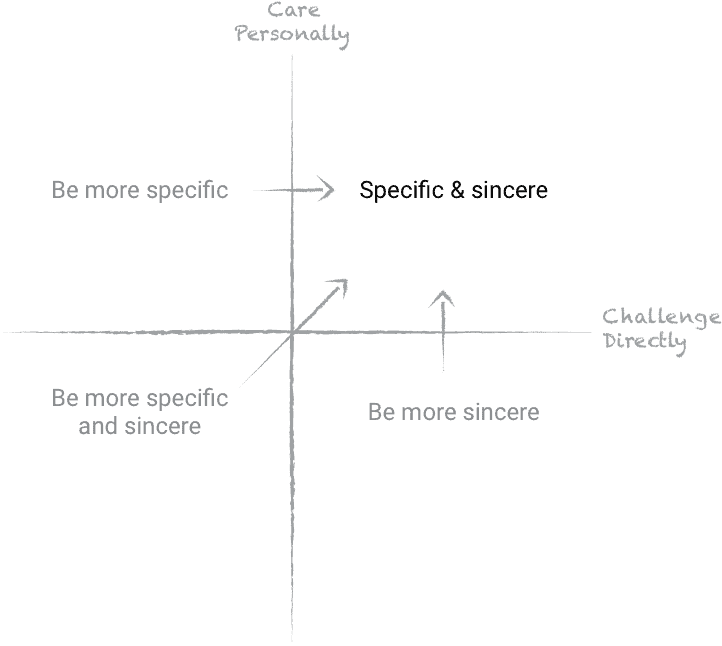 Praise specifically and sincerely
The more vague your praise is the less genuine it feels. If somebody has rated your praise as Manipulatively Insincere, you're not showing you care or challenging them directly enough. Try saying "I like the way you ___" It's hard to be non-specific after that opening. And when you're precise about something you admire and why, your sincerity will shine through. If you try to sound sincere without the specifics, you're likely to sound fake.
The more specific you are, the more helpful your praise is
Your praise is helpful because you've explained exactly what's good and why; also, your sincerity shows through naturally.
It's arrogant to think that people don't sense what you really think
Offering praise that you don't really mean will backfire. Try being more aware of the discrepancy between what you are saying and what you are thinking, and figuring out a productive way to say what you are really thinking.
Nobody likes a "shit sandwich"
Offer praise right away and only when something has genuinely impressed you; don't save it up and then use it just to soften the blow of criticism.
Praise in person so you can notice if the person seems skeptical that you mean it
If so, offer more specific details about what was good and why it matters, and your sincerity will show through naturally.
Make sure your private statements don't contradict what you say in public
Any discrepancies will come back to bite you!
Flattery will get you nowhere
Telling somebody "you are a genius," is problematic for the same reason saying "you are a moron" is: it personalizes. Besides, people see through it.