On this episode of the Radical Candor podcast, we're dropping a bonus episode from Kim's Just Work podcast featuring a conversation about mobbing, a form of group bullying. Mobbing involves a group of people working together directly or indirectly to remove the targeted individual. Mobbing is rooted in groupthink and group aggression with underlying elements of fear, competition, and envy. Unlike bullying, mobbing is not hierarchical. The target is usually labeled the troublemaker and is isolated within the organization.
Listen to the episode:
Radical Candor Podcast Episode At a Glance: Mobbing
Wesley Faulkner, who has led developer relations and been a community manager at a number of tech companies, joins Kim as co-host for season two of the Just Work podcast.
They talk to guests about their experiences with bias, prejudice, bullying, discrimination, harassment, and physical violations in the workplace. By sharing experiences, they help to build community and to help listeners recognize problems they are experiencing at work, and get some ideas about how to handle them.
On this episode, Kim and Wesley talk to Delia Grenville, a senior executive leader, process-driven change agent, large-scale technology change and business innovation strategist, about how institutional betrayal fueled mobbing in her workplace.
Leaders should be alert for mobbing in their organizations by looking for three indicators:
High performers are usually the target of mobbing, so leaders should watch for in-group/out-group behavior that excludes and attempts to alienate high performers.
The mob will attempt to push high-performing peers out the door and then huddle together to keep the door closed.
Worse yet, an organization's people systems and practices might seal the door shut. Workplace mobs often use HR or leaders to sabotage or undermine the target.
All of these behaviors may be happening at once and may not be noticed at their onset. When these behaviors conspire and go unnoticed, a team or organization is in trouble.
Bullying & Mobbing at Work Resources
Have questions about Radical Candor? Let's talk >>
————————————————————————————————————————————————————————————–
Radical Candor Podcast Listeners Get 10% Off The Feedback Loop
Improvising Radical Candor, a partnership between Radical Candor and Second City Works, introduces The Feedback Loop (think Groundhog Day meets The Office), a 5-episode workplace comedy series starring David Alan Grier that brings to life Radical Candor's simple framework for navigating candid conversations.
You'll get an hour of hilarious content about a team whose feedback fails are costing them business; improv-inspired exercises to teach everyone the skills they need to work better together, and after-episode action plans you can put into practice immediately.
We're offering Radical Candor podcast listeners 10% off the self-paced e-course. Follow this link and enter the promo code FEEDBACK at checkout.
Watch the Radical Candor Videobook
We're excited to announce that Radical Candor is now available as an hour-long videobook that you can now stream at LIT Videobooks. Get yours to stream now >>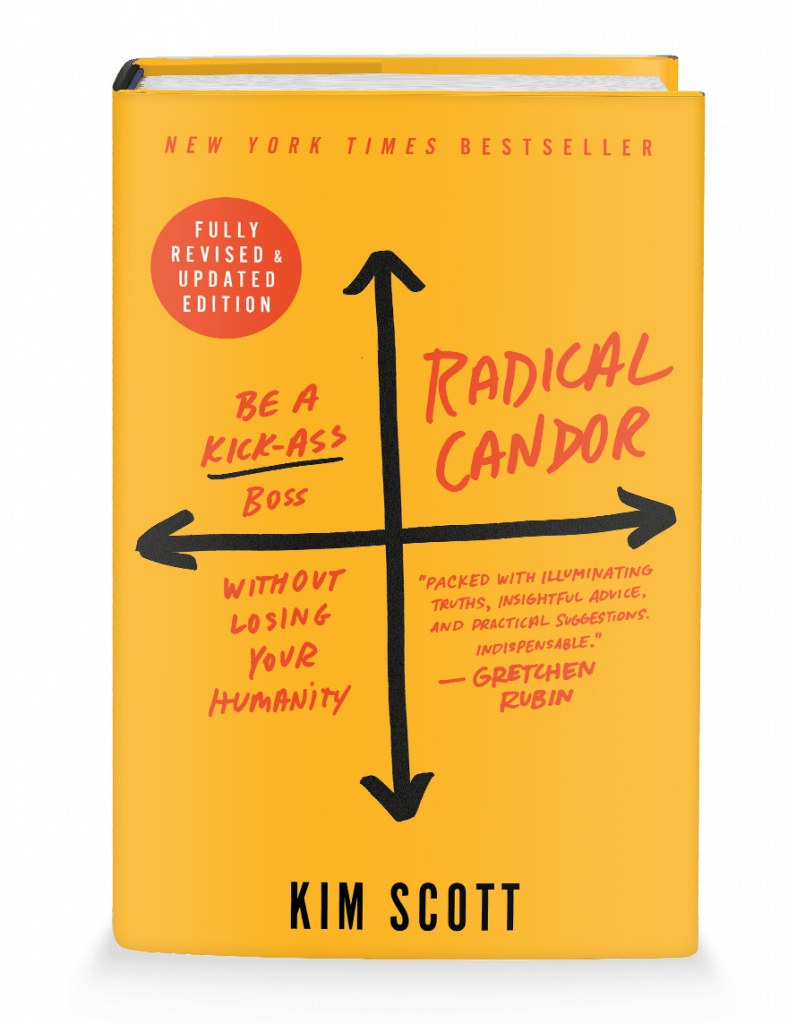 The Radical Candor Podcast is based on the book Radical Candor: Be A Kickass Boss Without Losing Your Humanity by Kim Scott.
Episodes are written and produced by Brandi Neal with script editing by Amy Sandler. The show features Radical Candor co-founders Kim Scott and Jason Rosoff and is hosted by Amy Sandler. Nick Carissimi is our audio engineer.
The Radical Candor Podcast theme music was composed by Cliff Goldmacher. Order his book: The Reason For The Rhymes: Mastering the Seven Essential Skills of Innovation by Learning to Write Songs.
Download our free learning guides >>

Sign up for our Radical Candor email newsletter >>

Shop the Radical Candor store >>

Get Radical Candor coaching and consulting for your team >>

Get Radical Candor coaching and consulting for your company >>

Meet the team >>