On this episode of the Radical Candor podcast, Kim, Jason and Amy welcome two very special guests, Ezra Rose and Davis Carter. Ezra and Davis were integral in the production of the Radical Candor Sessions by MasterClass. The group talks about the making of MasterClass, strategies for managing cross-functional teams and how to get everyone home in time for dinner.
Listen to the episode:
Episode At a Glance: Making MasterClass

Kim and Jason co-founded the company Radical Candor five years ago because they believe Radically Candid communication is foundational for success at work and in everyday life.

Radical Candor is thrilled to be part of Sessions by MasterClass to bring this leadership masterclass to millions of MasterClass members. Ezra Rose and Davis Carter, as well as countless others, helped us breathe new life into Radical Candor!

Ezra is a filmmaker living on Lenape land, otherwise known as New York City. They often focus on stories of queer and trans community, experiences of disability, and historically suppressed voices. Between 2018 and 2023, Ezra worked with MasterClass as a coordinator, Associate Producer, Creative Producer, Director, and Interviewer, proudly contributing to classes with people like Roxane Gay, Robin Roberts, Madhur Jaffrey, and the Radical Candor team! While at MasterClass they served two years as co-chair of the LGBTQIA+ employee resource group where they were able to use their organizational skills, education in LGBTQIA+ issues, and their personal experience as a proud queer and trans person in the world to serve their community. They are currently working on a film about the rich history of trans community newsletters.

Davis is a storyteller based in San Francisco. He is currently the Head of Content at the psychedelic therapy company, Mindbloom. Before that, he was a Director of Content at MasterClass where he worked for over 6 years. At MasterClass, he oversaw more than 20 projects including classes with former President Bill Clinton, Metallica, Amy Tan, and of course Kim Scott and Jason Rosoff. In a past life, he worked in film and television and contributed to FX's Emmy-Award Winning Fargo, Hulu's Emmy-Award Winning The Handmaid's Tale, and The History Channel's Vikings.
Resources: Making MasterClass
Have questions about Radical Candor? Let's talk >>
————————————————————————————————————————————————————————————–
Radical Candor Podcast Listeners Get 10% Off The Feedback Loop
Improvising Radical Candor, a partnership between Radical Candor and Second City Works, introduces The Feedback Loop (think Groundhog Day meets The Office), a 5-episode workplace comedy series starring David Alan Grier that brings to life Radical Candor's simple framework for navigating candid conversations.
You'll get an hour of hilarious content about a team whose feedback fails are costing them business; improv-inspired exercises to teach everyone the skills they need to work better together, and after-episode action plans you can put into practice immediately.
We're offering Radical Candor podcast listeners 10% off the self-paced e-course. Follow this link and enter the promo code FEEDBACK at checkout.
Watch the Radical Candor Videobook
We're excited to announce that Radical Candor is now available as an hour-long videobook that you can now stream at LIT Videobooks. Get yours to stream now >>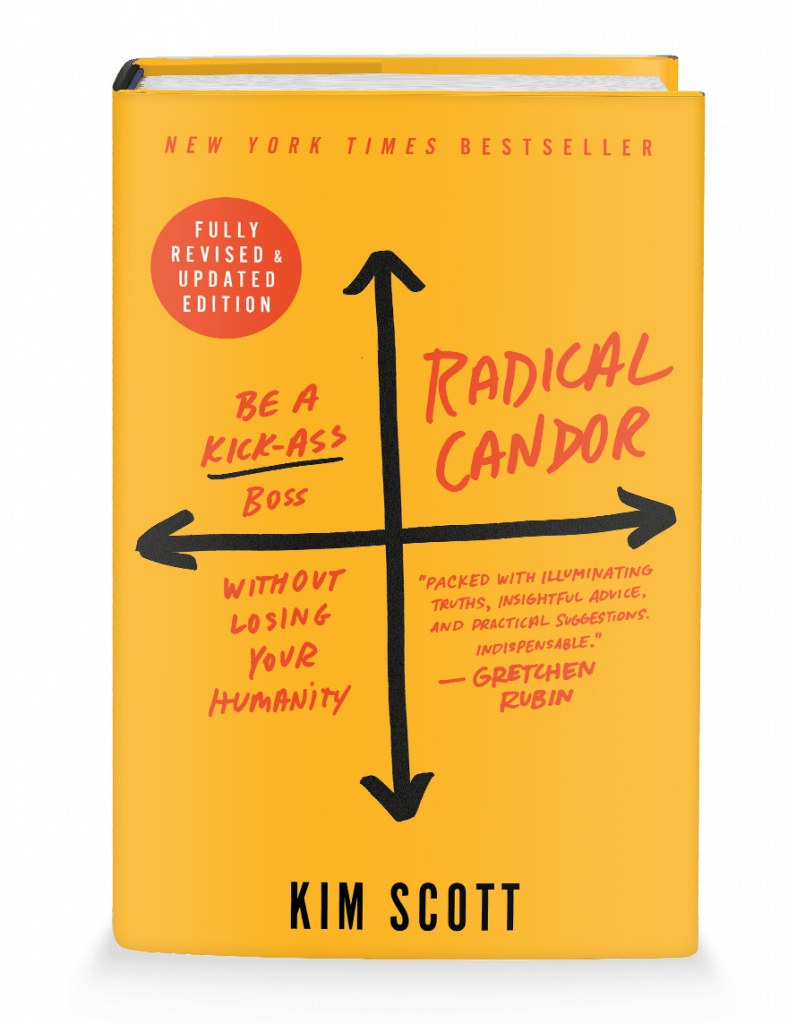 The Radical Candor Podcast is based on the book Radical Candor: Be A Kickass Boss Without Losing Your Humanity by Kim Scott.
Episodes are written and produced by Brandi Neal with script editing by Amy Sandler. The show features Radical Candor co-founders Kim Scott and Jason Rosoff and is hosted by Amy Sandler. Nick Carissimi is our audio engineer.
The Radical Candor Podcast theme music was composed by Cliff Goldmacher. Order his book: The Reason For The Rhymes: Mastering the Seven Essential Skills of Innovation by Learning to Write Songs.
Download our free learning guides >>

Sign up for our Radical Candor email newsletter >>

Shop the Radical Candor store >>

Get Radical Candor coaching and consulting for your team >>

Get Radical Candor coaching and consulting for your company >>

Meet the team >>