At some point during your career, you've likely asked yourself: Should I be a manager? We've mentioned on previous episodes of the Radical Candor podcast that at many organizations the only opportunity for growth, advancement, and a pay bump is to become a manager. For folks who thrive on building a team and guiding others to achieve results, becoming a manager may be a dream come true. On the other hand, management could be a nightmare for high-performing individual contributors who are experts in their fields but have a low frustration tolerance for herding cats. How do you know if management is right for you? Kim and Jason discuss their paths to management.
Listen to the episode:
Radical Candor Podcast Episode At a Glance: Should I be a manager?
Given the recent data that bad management is costing the global economy trillions of dollars, deciding whether or not to become the boss is a decision one shouldn't take lightly.
In an essay for Time, S. Mitra Kalita, co-founder and CEO of URL Media, called the first year of being a manager the worst year of her life. She's not alone, an HBR survey of first-time managers found nearly two-thirds are uncertain or anxious about their new role.
If you're wondering: Should I be a manager? Consider this. In Radical Candor Kim says, "When management is the only path to higher compensation, the quality of management suffers, and the lives of the people who work for these reluctant managers become miserable."
If your motivation for becoming a manager is entirely monetary, you're going to be miserable.
Radical Candor Podcast Checklist: Should I be a manager?
Before becoming a manager, or promoting someone else, ask the question: Do you want to

be

a manager for power, money, or control, or do you want to

do

the things that managers do like coaching, soliciting and giving feedback, and building teams to get stuff done?

Before becoming a manager, commit to doing the work on yourself that's necessary for you to not impose your neurosis on others so you can lead from a place of collaboration and curiosity versus a place of command and control.

Mental agility is an incredibly important quality in managers. Are you able to change your perspective in the face of new evidence or information? Do you know how to manage stress and do the things you need to do to stay centered? If not, management is probably not right for you right now.
Radical Candor Podcast Resources: Should I be a manager?
Favorite Thing!
Kim's favorite haircare product: ATTITUDE Hair Conditioner Bar, Plant- and Mineral-Based Plastic-free Beauty Care, Vegan and Cruelty-free
Have questions about Radical Candor? Let's talk >>
————————————————————————————————————————————————————————————–
Radical Candor Podcast Listeners Get 10% Off The Feedback Loop
Improvising Radical Candor, a partnership between Radical Candor and Second City Works, introduces The Feedback Loop (think Groundhog Day meets The Office), a 5-episode workplace comedy series starring David Alan Grier that brings to life Radical Candor's simple framework for navigating candid conversations.
You'll get an hour of hilarious content about a team whose feedback fails are costing them business; improv-inspired exercises to teach everyone the skills they need to work better together, and after-episode action plans you can put into practice immediately.
We're offering Radical Candor podcast listeners 10% off the self-paced e-course. Follow this link and enter the promo code FEEDBACK at checkout.
Watch the Radical Candor Videobook
We're excited to announce that Radical Candor is now available as an hour-long videobook that you can now stream at LIT Videobooks. Get yours to stream now >>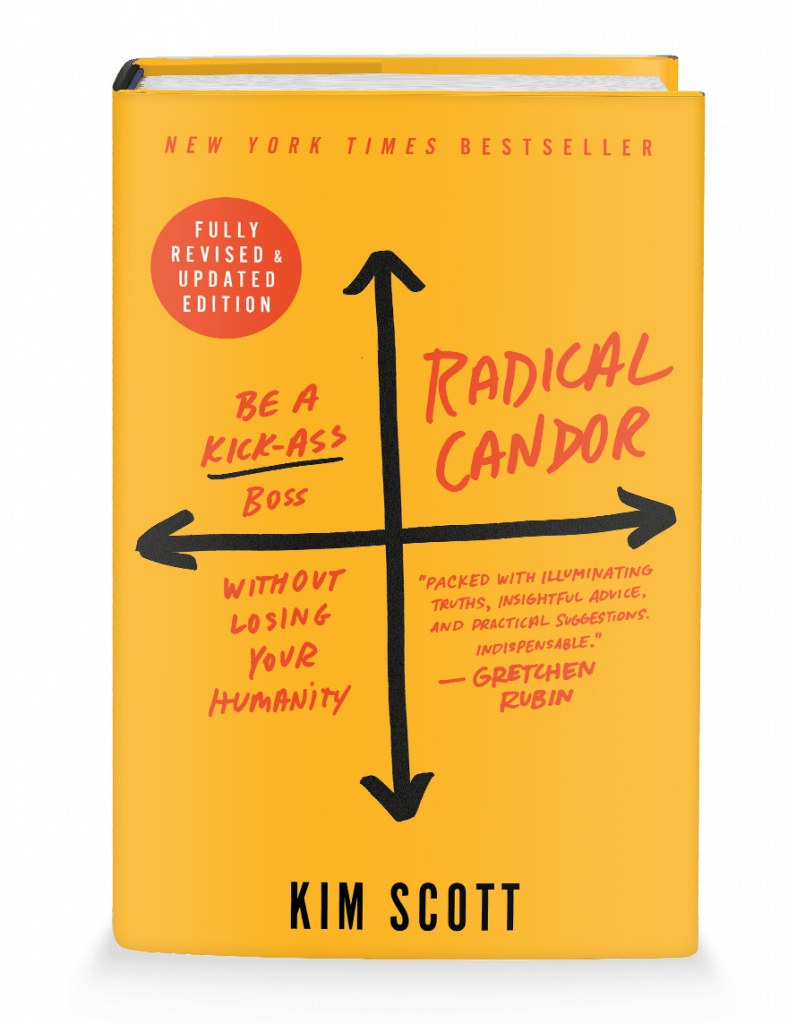 The Radical Candor Podcast is based on the book Radical Candor: Be A Kickass Boss Without Losing Your Humanity by Kim Scott.
Episodes are written and produced by Brandi Neal with script editing by Amy Sandler. The show features Radical Candor co-founders Kim Scott and Jason Rosoff and is hosted by Amy Sandler. Nick Carissimi is our audio engineer.
The Radical Candor Podcast theme music was composed by Cliff Goldmacher. Order his book: The Reason For The Rhymes: Mastering the Seven Essential Skills of Innovation by Learning to Write Songs.
Download our free learning guides >>
Take the Radical Candor quiz >>
Sign up for our Radical Candor email newsletter >>
Shop the Radical Candor store >>
Get Radical Candor coaching and consulting for your team >>
Get Radical Candor coaching and consulting for your company >>
Meet the team >>