On this episode of the Radical Candor podcast, Kim, Jason and Amy discuss the trend of prioritizing future-focused feedforward over backward-looking feedback. Feedback vs. feedforward — both of these words are well-intentioned euphemisms that tend toward either Ruinous Empathy or Manipulative Insincerity. Kim has strong opinions on the words "feedforward" and "feedback." Tune in to find out why one word makes Kim want to put her hands over her ears and the other makes her want to throw up in her mouth.
Listen to the episode:
Radical Candor Podcast Episode At a Glance: We Have Some Feedback About Feedforward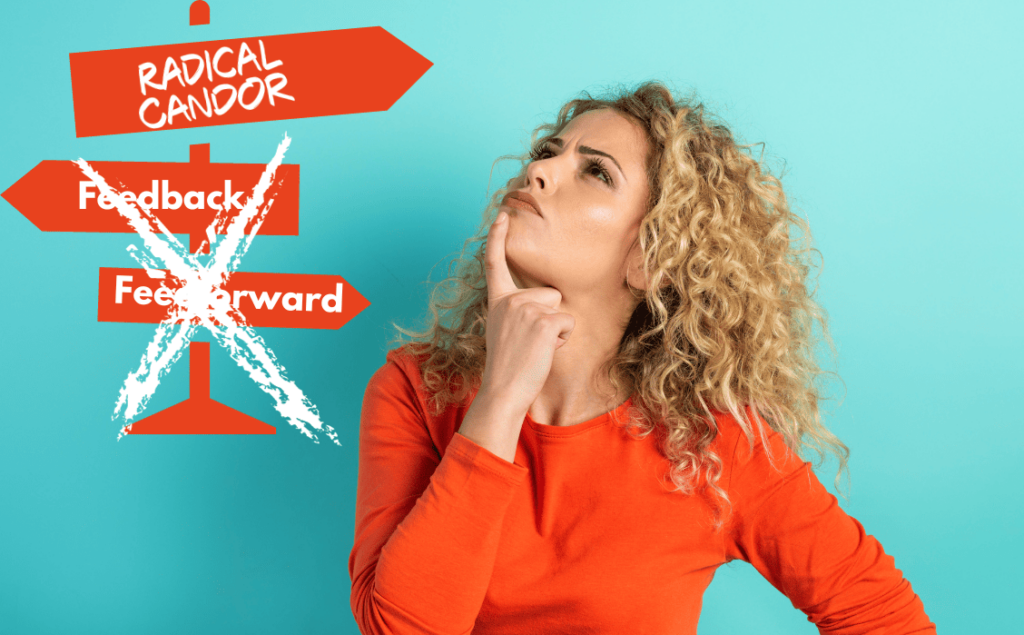 There's been a lot of chatter lately about feedback vs. feedforward. Words matter. We don't love the word feedback, but because it's commonly used to show people what to do more of and what to do less of, we use it often.
Does "bad feedback" mean criticism, or does it mean criticism that is badly delivered?
Does "good feedback" mean praise, or praise that is well delivered, or criticism that is well delivered?
Who the hell knows??! Because it's unknowable. Sloppy language.
The term feedforward is even more problematic because it pretends that we don't have to understand past mistakes to avoid them in the future. It pretends that we can avoid necessary but uncomfortable conversations.
Radical Candor Podcast Checklist: We Have Some Feedback About Feedforward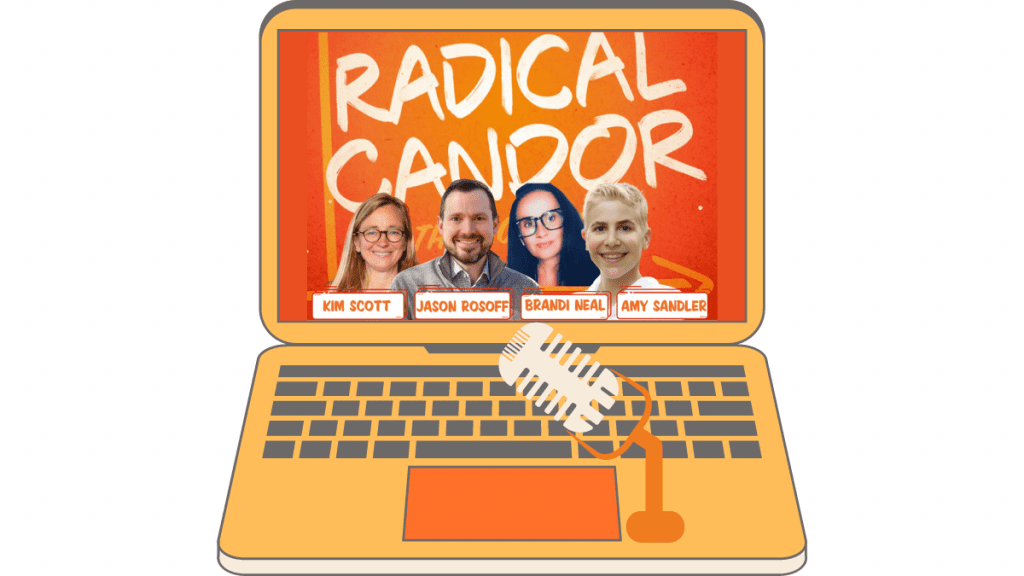 Create a psychologically safe environment where feedback conversations are less likely to trigger existential dread. It doesn't matter what you call it, if you're not being kind, clear, specific and sincere, calling it the nicest conversation in the world won't take the sting out of it.




What works for one person doesn't work for every person. You need to get to know the people on your team well enough to know how to give guidance to each of them in a way they'll be able to best hear it.

Use the CORE model to show people what to do less of and what to do more of and to ensure you're not giving feedback about someone's personality.
Radical Candor Podcast Resources: We Have Some Feedback About Feedforward
Favorite Thing!
The Man Who Broke Capitalism: How Jack Welch Gutted the Heartland and Crushed the Soul of Corporate America—and How to Undo His Legacy
Join Kim's Critiquing Capitalism Book Club on Fable
Have questions about Radical Candor? Let's talk >>
————————————————————————————————————————————————————————————–
Radical Candor Podcast Listeners Get 10% Off The Feedback Loop
Improvising Radical Candor, a partnership between Radical Candor and Second City Works, introduces The Feedback Loop (think Groundhog Day meets The Office), a 5-episode workplace comedy series starring David Alan Grier that brings to life Radical Candor's simple framework for navigating candid conversations.
You'll get an hour of hilarious content about a team whose feedback fails are costing them business; improv-inspired exercises to teach everyone the skills they need to work better together, and after-episode action plans you can put into practice immediately.
We're offering Radical Candor podcast listeners 10% off the self-paced e-course. Follow this link and enter the promo code FEEDBACK at checkout.
Watch the Radical Candor Videobook
We're excited to announce that Radical Candor is now available as an hour-long videobook that you can now stream at LIT Videobooks. Get yours to stream now >>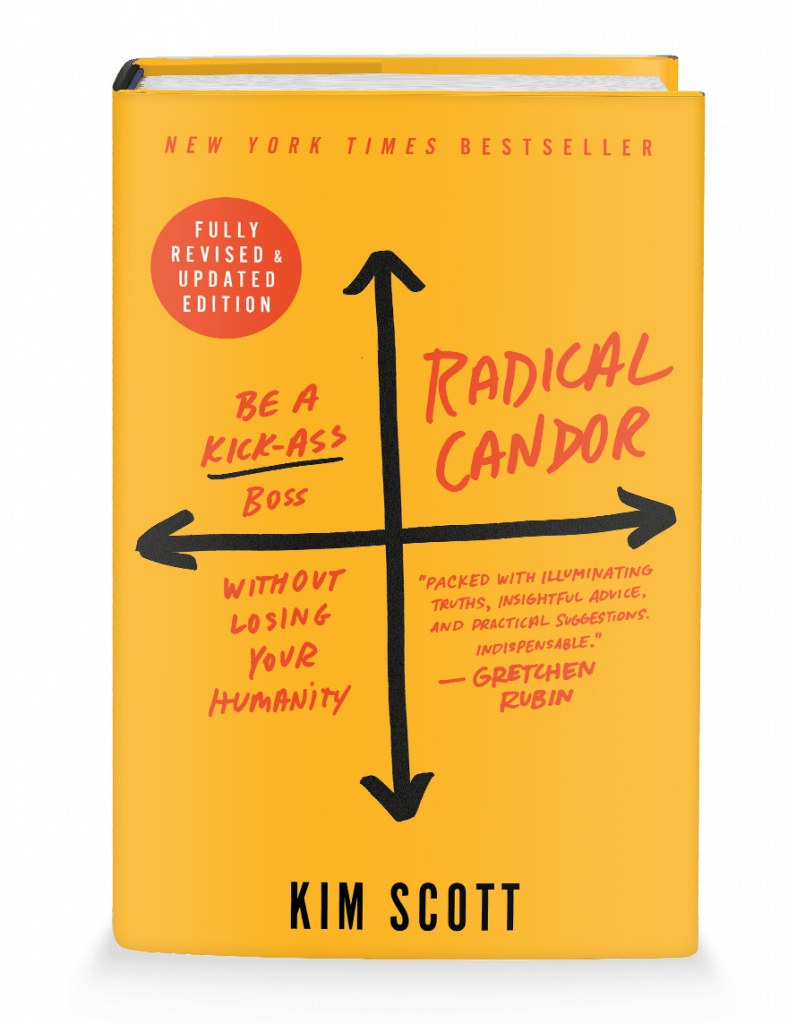 The Radical Candor Podcast is based on the book Radical Candor: Be A Kickass Boss Without Losing Your Humanity by Kim Scott.
Episodes are written and produced by Brandi Neal with script editing by Amy Sandler. The show features Radical Candor co-founders Kim Scott and Jason Rosoff and is hosted by Amy Sandler. Nick Carissimi is our audio engineer.
The Radical Candor Podcast theme music was composed by Cliff Goldmacher. Order his book: The Reason For The Rhymes: Mastering the Seven Essential Skills of Innovation by Learning to Write Songs.
Download our free learning guides >> Take the Radical Candor quiz >> Sign up for our Radical Candor email newsletter >> Shop the Radical Candor store >> Get Radical Candor coaching and consulting for your team >> Get Radical Candor coaching and consulting for your company >> Meet the team >>