In times of trauma, it's all about care personally. This is not the moment to challenge directly. Or to make policy pronouncements, especially if that's not your job. On this episode of the Radical Candor podcast, Kim, Jason and Amy discuss leading with compassion amid the chaos and catastrophe in Israel and Gaza.
Listen to the episode:
Radical Candor Podcast Episode At a Glance: Leading With Compassion
A cautionary tale: I was living and working in Manhattan on 9/11. Shortly after I learned about the death of someone close to me, a person I love called me from another country. Before checking in on me, or asking how I was, she launched into a critique of U.S. Government policy.
Intellectually, I agreed with her critique. But emotionally I was devastated. Her call fractured our relationship, permanently. She wasn't of course saying that the U.S. had it coming. But that was how it felt.
And when I asked her why she couldn't just check in on me at that moment, and ask me how I was, she got defensive. Please don't do that to the people you care about!
I am sharing this because I want to encourage folks to reach out to people they know affected by the violence and shower them with love. Call them on the phone. Have real, human conversations with specific people who you know personally.
Not making public statements on social media is not the same thing as silence. Taking action privately matters. Showing one person with whom you have a relationship that you care about how they are doing, asking them how you can support them, seems to me like it will have more impact.
— Kim Scott
Radical Candor Podcast Resources
Gate A-4 By Naomi Shihab Nye
Spotify Gave Subscribers Music and Podcasts. Next: Audiobooks.
Have questions about Radical Candor? Let's talk >>
————————————————————————————————————————————————————————————–
Radical Candor Podcast Listeners Get 10% Off The Feedback Loop
Improvising Radical Candor, a partnership between Radical Candor and Second City Works, introduces The Feedback Loop (think Groundhog Day meets The Office), a 5-episode workplace comedy series starring David Alan Grier that brings to life Radical Candor's simple framework for navigating candid conversations.
You'll get an hour of hilarious content about a team whose feedback fails are costing them business; improv-inspired exercises to teach everyone the skills they need to work better together, and after-episode action plans you can put into practice immediately.
We're offering Radical Candor podcast listeners 10% off the self-paced e-course. Follow this link and enter the promo code FEEDBACK at checkout.
Watch the Radical Candor Videobook
We're excited to announce that Radical Candor is now available as an hour-long videobook that you can now stream at LIT Videobooks. Get yours to stream now >>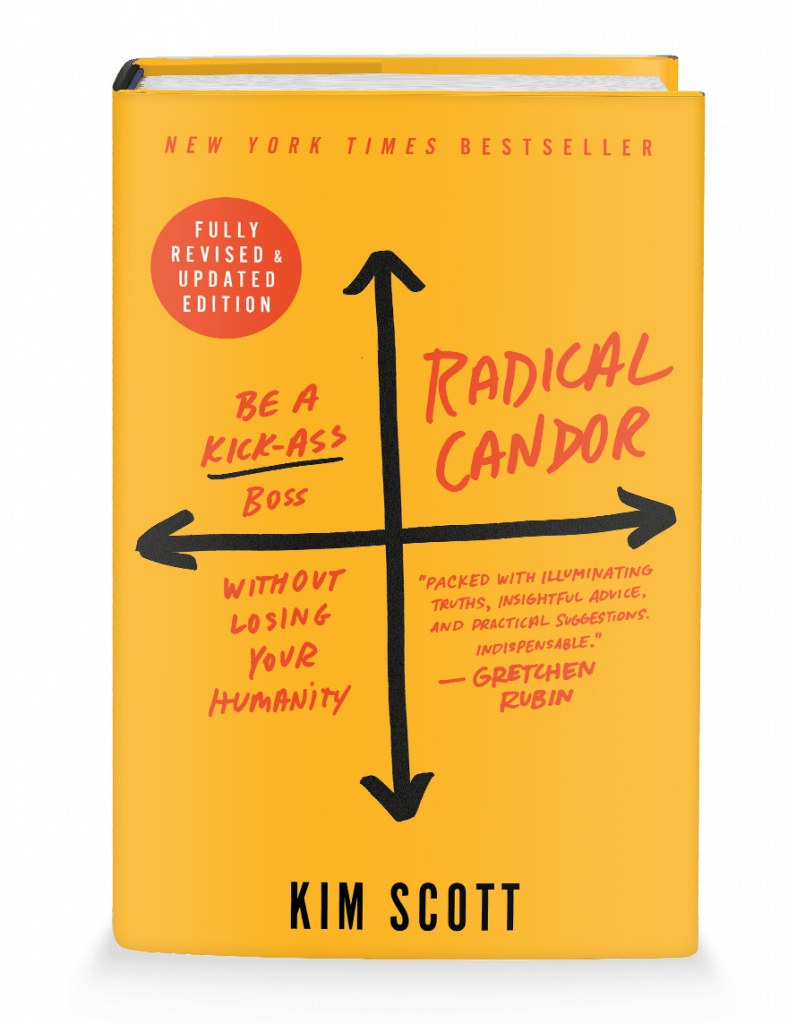 The Radical Candor Podcast is based on the book Radical Candor: Be A Kickass Boss Without Losing Your Humanity by Kim Scott.
Episodes are written and produced by Brandi Neal with script editing by Amy Sandler. The show features Radical Candor co-founders Kim Scott and Jason Rosoff and is hosted by Amy Sandler. Nick Carissimi is our audio engineer.
The Radical Candor Podcast theme music was composed by Cliff Goldmacher. Order his book: The Reason For The Rhymes: Mastering the Seven Essential Skills of Innovation by Learning to Write Songs.
Download our free learning guides >>

Take the Radical Candor quiz >>

Sign up for our Radical Candor email newsletter >>

Shop the Radical Candor store >>

Get Radical Candor coaching and consulting for your team >>

Get Radical Candor coaching and consulting for your company >>

Meet the team >>