Kick ass at work
while embracing your humanity
Based on the bestselling book Radical Candor that launched a global management revolution, our suite of products and services are designed to level up your skills, fix your feedback fails and support your Radical Candor journey.
We have everything you need to learn to practice Radical Candor like a boss, including The Feedback Loop starring Kim Scott and David Alan Grier. This laugh-and-learn limited series and e-course will help you act less like The Office's Michael Scott and more like Radical Candor's Kim Scott.
The Road To Radical Candor Starts Here
Radical Candor is about more than just "being professional." It's about giving a damn about the people you work with, sharing more than just your work self and encouraging everyone else to do the same.
How can you offer guidance to people at work without sounding patronizing? The answer is simple, but it's not easy.
We teach a proven feedback-driven management philosophy to help you create a culture of Radical Candor, grow as an individual and as a team and achieve amazing results.
Build a Radically Candid culture
of Guidance and Feedback
What is radical candor?
A management philosophy based on Caring Personally while Challenging Directly.
Radical Candor:
a Global Phenomenon
Radical Candor is being shared at companies around the world. Read all about it.
The book
that's reshaping
modern management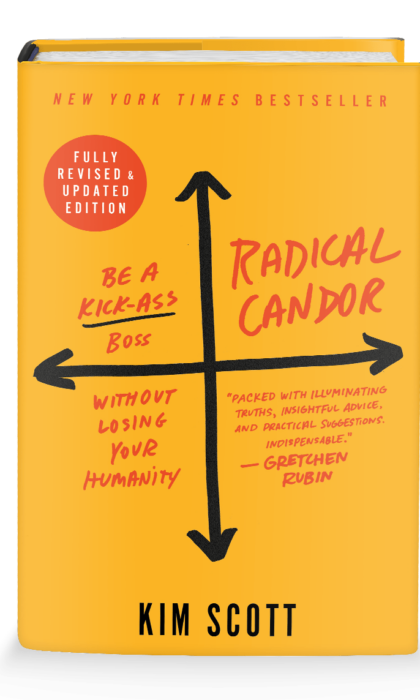 "With Radical Candor, Kim has bottled some of Google's magic and shared it with the world."
Shona Brown
Former SVP Business Operations at Google
"Radical Candor is packed with illuminating truths, insightful advice and practical suggestions, all illustrated with engaging (and often funny) stories from Kim Scott's own experiences at places like Apple, Google and various start-ups. Indispensable."
Gretchen Rubin
Author of NYT bestseller 
The Happiness Project
"Kim Scott has a well-earned reputation as a kickass boss and
a voice that CEOs take seriously...
If you manage people—whether it be 1 person or a 1,000—you need Radical Candor. Now."
Daniel Pink
Author of NYT bestseller Drive
"Reading Radical Candor will help you build, lead and inspire teams to do the best work of their lives."
Sheryl Sandberg
Author of the NYT bestseller Option B
Get 6 Minutes of Radical Candor