Stuck In The Feedback Loop? This Radical Candor Training Tool Will Show You The Way Out (And It's Fun!)
What's feedback got to do with it? If it's running a successful business or building strong relationships, effective feedback is everything. And if you're stuck in a negative feedback loop at work, you're likely losing time, money and the best people on your team. 
This is why Improvising Radical Candor, a co-production of Radical Candor and Second City Works, has created a laugh-and-learn workplace comedy series called The Feedback Loop to teach professionals a simple framework for successfully navigating feedback conversations.
Starring award-winning actor David Alan Grier, this binge-worthy series teaches employees the proven feedback framework outlined in Kim Scott's New York Times and Wall Street Journal bestseller, Radical Candor: Be a Kickass Boss Without Losing Your Humanity. 
Binge-worthy, not cringe-worthy, this Netflix-style Radical Candor course includes:
An hour of hilarious content about a team whose feedback fails are costing them business, delivered over 5 episodes.
Improv-inspired exercises to teach you the skills you need to think more quickly on your feet and work more effectively with others.
Quizzes and action plans you can put into practice immediately.
Watch the trailer
Get the self-paced e-course for $59 >>
It's no secret that a majority of employees don't receive the feedback they need to perform better at work, which is a one-way path to burnout and quiet quitting.
Learning how to have effective feedback conversations by applying the principles of Radical Candor — Care Personally and Challenge Directly — doesn't have to be a bore or a chore.
"Anyone who has spent a long time in an office job will have suffered the indignities of a training day. The group-bonding exercise where workers fall into each other's arms as if they were part of a 1960s encounter group," The Economist writes.
"[There's] the overenthusiastic guest lecturer who constructs a lengthy and banal presentation out of a series of random nouns. The debate about the company's future which turns into an exercise in Stalinist self-criticism. It all resembles one of those nightmares when you find yourself marooned back in the school classroom."
"Thankfully, there are inventive ways to undergo training online. [And] comedy can be a source of solace in a crisis."
Enter The Feedback Loop.
Meet the team stuck in 'the feedback loop'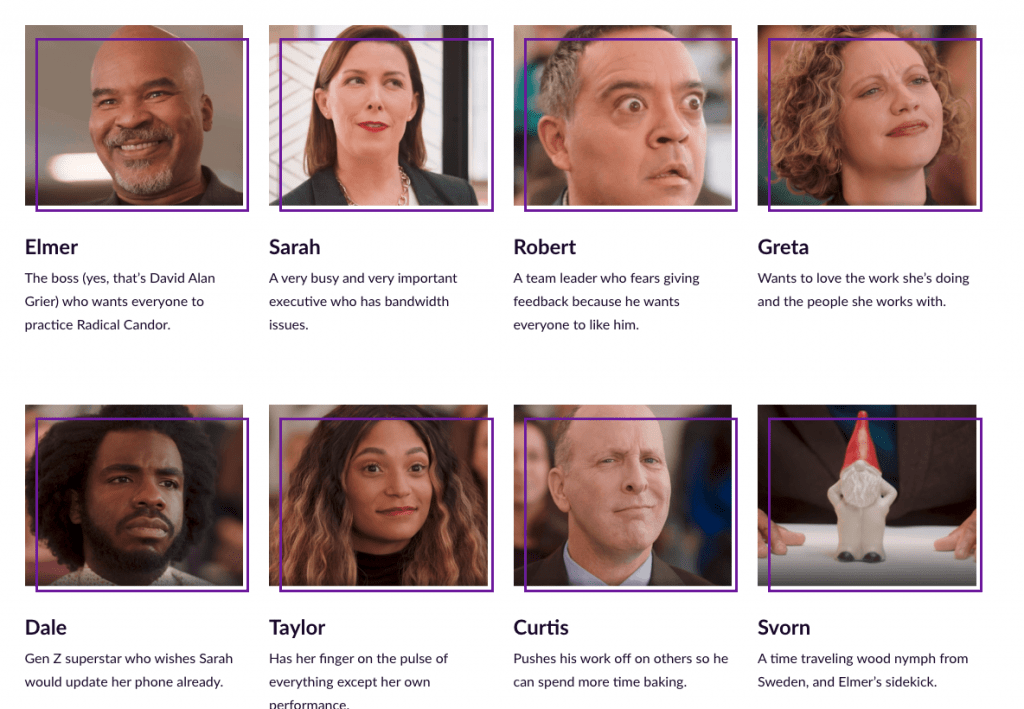 This limited series follows two fearless leaders stuck in a cycle of communication chaos (think Groundhog Day meets The Office).
After unsuccessfully trying to escape their office building, the pair realize the only way to stop repeating the same terrible day at work is to act less like Michael Scott and more like Kim Scott by applying the principles of Radical Candor. Let's meet the team!
Elmer, the boss who wants everyone to practice Radical Candor;

Sarah, an executive who is very busy and very important with bandwidth issues;

Robert, a team leader who fears giving feedback because he wants everyone to like him;

Greta, a steadfast employee who wants to love the work she's doing and the people she works with (but they don't make it easy);

Dale, a Gen Z superstar who wishes Sarah would update her phone already;

Taylor, an influencer who has her finger on the pulse of everything except her own performance;

Curtis, a disengaged employee who pushes his work off on others so he can spend more time baking; and

Svorn, a time-traveling wood nymph from Sweden.
"This is not your grandfather's training program," says Scott, co-founder of the executive education firm Radical Candor. "We partnered with Second City Works to bring Radical Candor to life in a way that's relatable, engaging and hilarious."
Improvising Radical Candor breaks convention from traditional e-learning offerings by combining Radical Candor with the comedic storytelling that's synonymous with The Second City. As a result, The Feedback Loop is the only virtual workplace "training" that's equal parts fresh, fun and effective.
Comedy can be a source of solace in a crisis." — The Economist
"Practicing Radical Candor requires self-awareness and relational awareness, and science suggests that improvisation can help make small yet significant behavioral changes," says Kelly Leonard, executive director of insights and applied improvisation at Second City Works.
"We are thrilled to use our unique comedic sensibilities to help bring Radical Candor to life with the playfulness and humor for which The Second City is so well known."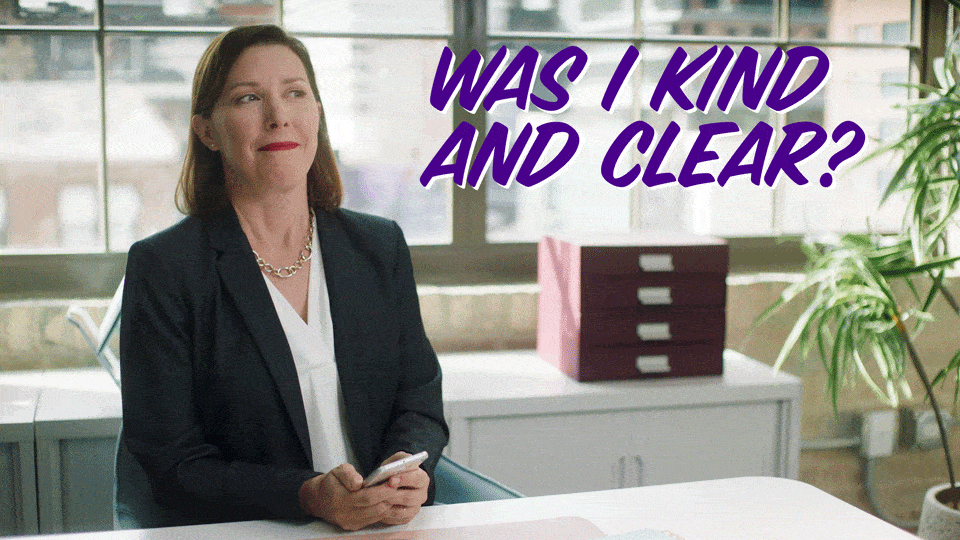 Each episode focuses on a specific skill learners need to practice Radical Candor — guidance and feedback that's both kind and clear, specific and sincere.
Companies with underperforming teams, high turnover and stalled growth can benefit from Radical Candor's simple framework for navigating feedback conversations.
No matter where people are located, The Feedback Loop is easy to scale across an entire organization, creating a shared vocabulary and communication framework that promotes a culture of kind and clear feedback.  
Giving and receiving feedback is crucial to your success, but we know it can be uncomfortable. That's why we're offering Radical Candor readers 10% off the self-paced e-course.
Follow this link and enter the promo code FEEDBACK at checkout. Then put on your PJs, get comfy on your couch, and Let's Get Radical! (Sorry, popcorn not included.)
————————————————————————————————————————————————————————————–
Improvising Radical Candor, a partnership between Radical Candor, LLC and Second City Works, produces live and virtual content, including the new workplace comedy series The Feedback Loop, to help people practice Radical Candor through improv. Get it for yourself, or for your team.
*This post was updated in October 2022.