Tips to Avoid Ruinously Empathetic Praise
If you think you've given praise that was Ruinously Empathetic, check out these tips for moving towards Radical Candor!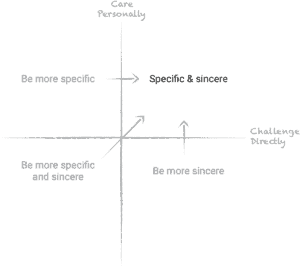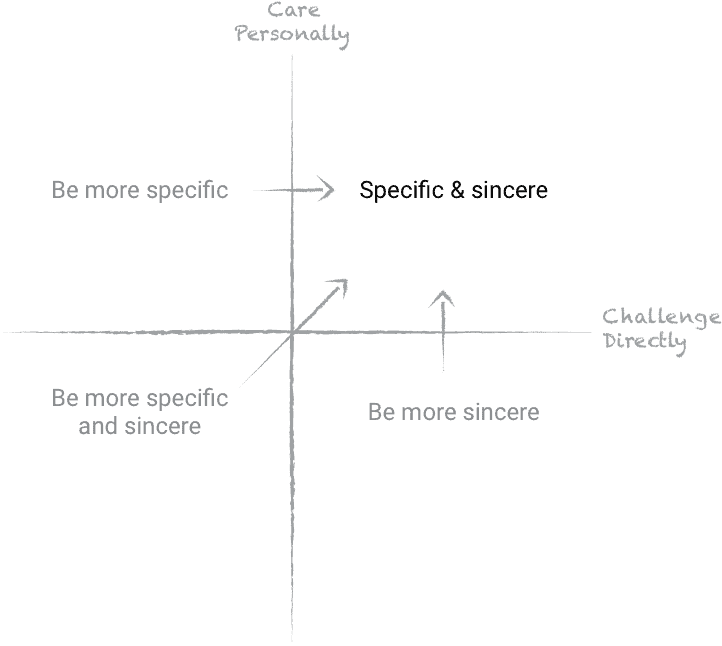 Praise Specifically
Just saying "good job" is not helpful, and saying, "you are great" can actually be counterproductive. If somebody has rated your praise as Ruinously Empathetic, you're not challenging them enough. Try being specific enough to show how to build on the success.
Your job is not to be a cheerleader
It's to offer praise that shows exactly what was great to help people know what to do more of. Focus on what specifically you admired about the work, not on trying to make people "feel good." Don't say, "You did great, you should feel happy!" Instead, say, "Your idea increased efficiency 45% by eliminating the grunt work we all hated to do. Your idea not only improved profits, it made our jobs more interesting. Here's how to build on it."
The more specific you can be about what you admire and why, the less likely your praise is to sound patronizing.
Vague praise like "good job" can sound arrogant. Stating "good job" implies you think you are the arbiter of what's good and what's not. Try saying "I admire the way you ___" Owning your opinions and explaining specifically why you think what you think demonstrates humility.
You won't forget the details if you praise right away
The faster you praise something great after you see it, the easier it is to be specific enough for the praise to have real meaning.
Praise in person so you can notice if the person is brushing it off as meaningless
If so, get more specific. Usually, the praise will have more meaning. Sometimes, you'll learn that you're praising the wrong thing or the wrong person…
When praising publicly, the goal is both recognition AND learning
Be specific about what the person did, the impact, and the context so that the whole team learns. Don't say, "Sal did a great job." Instead say, "Sal came up with the idea for X and then got budget for it. As a result, you are all 85% more efficient. That means less grunt work and more time for cool projects for everyone. Thank you Sal!"
For the same reason you wouldn't say, "You're a dumbass!" don't say, "You're a genius!"
Instead be specific about what was good, why, and how to build on it. The reward for good work is more good work, not a pat on the shoulder.