Our podcast series, "Radically Candid Conversations," features experts and guests who help us learn, reflect and put our insights into action. On this episode of the Radical Candor podcast, Debora Spar, a Harvard Business School professor and former Barnard College president, talks to Kim Scott about her new book Work Mate Marry Love: How Machines Shape Our Human Destiny.
Listen to the episode: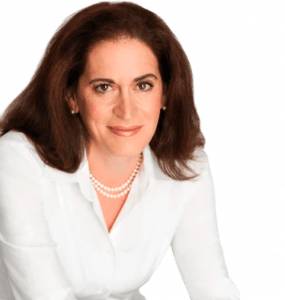 Debora Spar is the MBA Class of 1952 Professor of Business Administration at Harvard Business School and Senior Associate Dean of HBSOnline.
Her current research focuses on issues of gender and technology, and the interplay between technological change and broader social structures.
On the Radical Candor podcast, Kim and Debora talk about the role of technology in modern society, which Debora writes about in her new book Work Mate Marry Love: How Machines Shape Our Human Destiny.
How will robots improve communication? Can you fall in love with a robot? How does technology affect the practice of Radical Candor? Tune in to find out!
Listen to the Radically Candid Conversations series
Kim Scott & Dr. A. Breeze Harper Discuss Anti-Racism: Kim and Dr. Harper, Ph.D., a diversity and inclusion strategist, antiracism scholar and facilitator, explores how to practice Radical Candor when addressing systemic racism; the historical origins and research-based understanding of white, racialized consciousness; what it means to be antiracist and how to practice anti-racism, and how we can be antiracist leaders, parents and citizens.
Kim Scott & Annie Jean-Baptiste, Author of Building for Everyone: Kim and Annie discuss how to build inclusive products, teams and experiences by focusing on 12 areas of intersectionality: age, race, ability, culture, socioeconomic status, religion, geography, sexual orientation, gender, education, ethnicity and language.
Kim Scott & Tiffani Lee Discuss Using Radical Candor to Improve DEI Conversations: Kim and Tiffani explore how practicing Radical Candor can be a helpful framing when addressing systemic racism; why it's so important to have the difficult conversations so many of us were trained not to have in the workplace; the importance of metrics and storytelling in creating a diverse, equitable and inclusive workplace; and what we all can learn, whatever industry we're in, from lawyers and law firms working to create more just workplaces.
Radical Candor Podcast Listeners Get 10% Off The Feedback Loop
Improvising Radical Candor, a partnership between Radical Candor and Second City Works, introduces The Feedback Loop (think Groundhog Day meets The Office), a 5-episode workplace comedy series starring David Alan Grier that brings to life Radical Candor's simple framework for navigating candid conversations.
You'll get an hour of hilarious content about a team whose feedback fails are costing them business; improv-inspired exercises to teach everyone the skills they need to work better together; and after-episode action plans you can put into practice immediately.
We're offering Radical Candor podcast listeners 10% off the self-paced e-course. Follow this link and enter the promo code FEEDBACK at checkout.
Just Work is Available for Pre-Order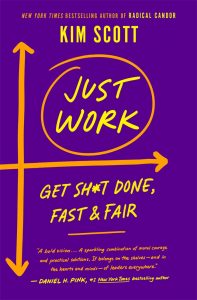 Pre order Kim's new book, Just Work: Get Sh*t Done, Fast & Fair, to learn how we can recognize, attack, and eliminate workplace injustice ― and transform our careers and organizations in the process.
We ― all of us ― consistently exclude, underestimate, and underutilize huge numbers of people in the workforce even as we include, overestimate, and promote others, often beyond their level of competence. Not only is this immoral and unjust, it's bad for business. Just Work is the solution.
Just Work is Kim new book, revealing a practical framework for both respecting everyone's individuality and collaborating effectively. This is the essential guide leaders and their employees need to create more just workplaces and establish new norms of collaboration and respect.