Have you ever received praise that made it feel like you were just getting a pat on the head? Or have you ever given someone praise because you wanted them to like you? This episode is for you! This week on the Radical Candor podcast: Ruinous Empathy and praise, with special guest, Dick Costolo!
Listen to the episode now:
In this episode
We're so excited this week to have Dick Costolo as our guest on the podcast. Dick is the former CEO of Twitter. He had an enormous impact on the business at Twitter and proved himself to be an amazing boss in the process.
This episode of Radical Candor is about Ruinous Empathy. In the Radical Candor 2×2, Ruinous Empathy is when you show you Care Personally, but don't Challenge Directly.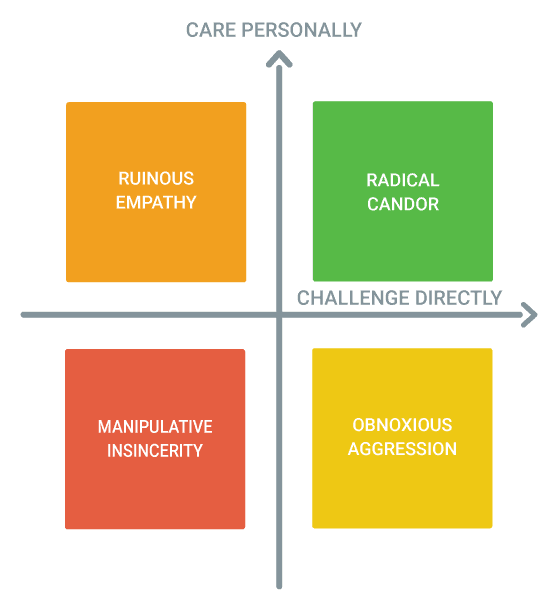 Russ, Kim, and Dick tell stories about Ruinous Empathy, about "trying to be too nice," and the mistakes they've made when giving praise. As Dick says,
Managing by trying to be liked is the path to ruin.
They talk about common pitfalls when giving praise, especially the tendency to think that the purpose of praise is to make people feel good.
And of course, the episode ends with specific tips that you can put into practice right away.
This Week's Candor Checklist
Tip 1: Spend just as much time preparing to praise as you do preparing to criticize.
Tip 2: Make sure that your praise clearly identifies both what was good and why it was good.
Tip 3: If you don't mean it, don't say it.
Make sure to listen to the episode for the full explanation of these tips.
Related Links
Trying to remember the resources mentioned in the episode? We've got you covered: