Meet the Coaches Dedicated to Delivering Radical Candor to Companies and Teams Around the World
From bestselling book to boots on the ground, over the past few years, our Radical Candor Coaches have delivered workshops and keynotes to tens of thousands of people around the world.
By providing companies and teams with a shared vocabulary to help them succeed, Radical Candor is transforming the relationships people have at work.
Meet the people behind the message! Our highly skilled coaches are here to help you introduce Radical Candor to your team and create a plan for long-term sustainment.
Read Radical Candor Case Studies >>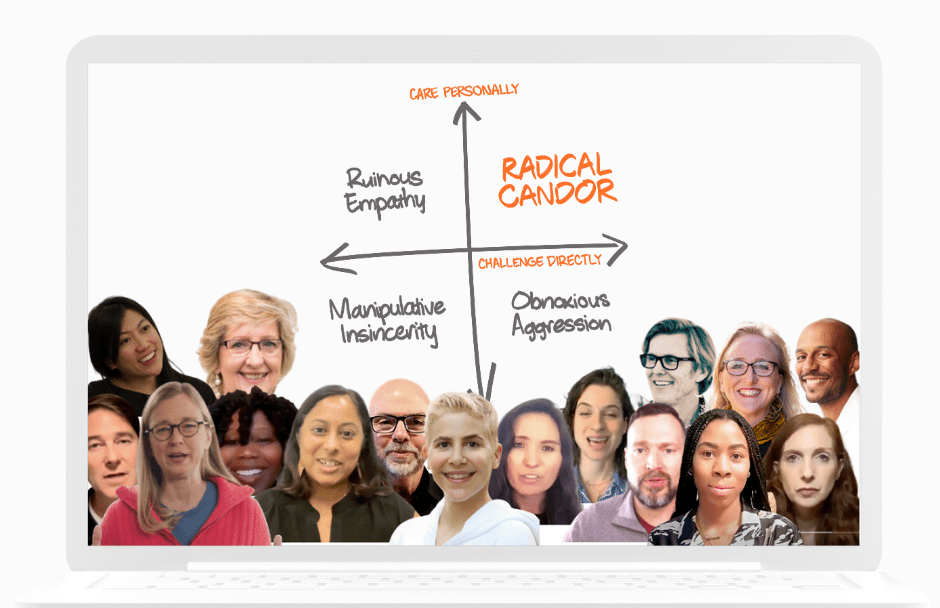 Meet the Radical Candor Coaches
————————————————————————————————————————————————
Radical Candor Author & Co-Founder Kim Scott
Kim is the author of Radical Candor: Be a Kick-Ass Boss Without Losing Your Humanity and Just Work: How To Root Out Bias, Prejudice, and Bullying to Create a Kick-Ass Culture of Inclusivity.
In addition to being a CEO coach at Dropbox, Qualtrics, Twitter and other tech companies, she was a member of the faculty at Apple University and before that led AdSense, YouTube and DoubleClick teams at Google.
Kim also managed a pediatric clinic in Kosovo and started a diamond-cutting factory in Moscow.
————————————————————————————————————————————————
Radical Candor Co-Founder and CEO Jason Rosoff
Over the last five years, Jason helped all kinds of organizations, from tiny startups to giants in the Fortune 100, realize the power of creating a more Radically Candid culture.
Through this work, he's helped hundreds of companies develop real human relationships between team members and through those relationships, achieve amazing results collaboratively.
He also worked as a product design team lead at Fog Creek Software, the software company that created well-loved products like Trello and Stackoverflow. In 2010, he moved to California and helped launch Khan Academy, the world-renowned educational tech non-profit.
Over the next seven years, he helped it grow from three people to a few hundred and reach over 100 million students around the world as both chief people and chief product officer.
————————————————————————————————————————————————
Lead Coach & Radical Candor Podcast Host Amy Sandler
As Radical Candor's Lead Coach, Amy has shared Radical Candor around the world, from start-ups to Fortune 100 companies, in industries ranging from aerospace to technology, financial services to franchising, and education to healthcare.
Amy has trained tens of thousands across a spectrum of roles, including CEOs and leadership teams, mid-level and new managers and individual contributors just starting on their career paths.
An executive coach, corporate mindfulness trainer and professional speaker, Amy has more than 20 years of experience in senior roles including Young Presidents' Organization (YPO), Vistage and UCLA.
She has an AB and MBA from Harvard University, an MFA in Screenwriting from UCLA and is a certified teacher of the Search Inside Yourself leadership program developed at Google. Amy is also the host of the top-rated Radical Candor podcast.
Listen to the Radical Candor podcast ▶️
————————————————————————————————————————————————
Radical Candor Coach Becca Barish
As a licensed clinical social worker with a master's degree in social service administration from the University of Chicago, Becca is a learning designer who uses her background in social work and improvisation to motivate connection, empathy, vulnerability and resilience in the workplace.
She has worked to apply improv in clinical and business settings through her work as a designer and facilitator for Second City Works
Becca also designs and facilitates with Nova Collective, a company that trains across all levels of an organization to comprehend and operationalize core diversity, equity and inclusion concepts.
————————————————————————————————————————————————
Radical Candor Coach Terri Burns
Recognized as a Forbes 30 Under 30 2021 awardee for Venture Capital, Terri is a speaker, investor and builder and served as two-time co-chair of Fortune Magazine's annual Brainstorm Tech Conference.
She has also given talks and keynote speeches at the likes of All Raise, Stanford GSB, the Teen Vogue Summit and many more. A former partner at Google Ventures and associate product manager at Twitter, Terri holds a bachelor's degree from the NYU Courant Institute of Mathematical Sciences.
She currently serves on the Board of Trustees at her alma mater, NYU, the youngest member in NYU's history.
————————————————————————————————————————————————
Radical Candor Coach Aaron Dimmock
A retired Naval Officer and Aviator, Aaron has had the privilege of serving in various managerial and leadership positions for over 20 years.
A graduate of the United States Naval Academy, Aaron is currently working toward his Ph.D. while studying how candor shapes and sustains group performance.
In addition to Radical Candor, his research interests include culture, trust, discernment, ethics, leadership, human behavior, conflict resolution, organizational performance and value creation.
————————————————————————————————————————————————
Radical Candor Coach Bina Martin
A teacher, director, actor, writer, corporate facilitator and learning designer, Bina is dedicated to what she calls "Human 101," teaching individuals and industries to improve relationships, civility and productivity through improvisation, agility and deeper, more empathic understanding.
A longtime faculty member of the Second City Training Center, Bina has taught in its Conservatory, Improv, Sketch Writing, Music, Youth, Online and Wellness programs, as well as directed numerous shows in its theaters. She was an adjunct faculty member at DePaul University.
Bina, a graduate of Harvard and The Actors' Studio Program at the New School, is co-author of the syndicated column, Miss Manners and the books, Miss Manners' Guide to a Surprisingly Dignified Wedding and Placid Pregnancy: A Miss Manners Guide.
————————————————————————————————————————————————
Radical Candor Coach Lele Mason
A very funny lady with a unique perspective, Lele is a rising comedienne. Using her Master of Public Administration degree, she combines her understanding of organizational development and theory with comedy to enhance professional environments.
She has designed and implemented several programs, most notably Quite the Character for the Non-Profit Organization Free Lunch Academy where she once served as the artistic director.
She understands team dynamics and the importance of communication.  Her goal is to always maintain and support inclusive, fun, brave and safe working environments.
————————————————————————————————————————————————
Radical Candor Coach Farrah Mitra
Farrah is a strategy consultant turned executive coach, facilitator, and people and culture consultant. She champions and invests in those she works with and empowers them to both shift their mindset as well as leverage the practical frameworks and infrastructure they need to drive their success.
While she has experience working with traditional firms, having worked at Bain & Company for more than a decade, Farrah also enjoys working with startups, having built the people functions at two hyper-growth tech companies.
She has significant experience in understanding the pain points when it comes to leadership and the employee experience, especially in ambiguous, fast-paced environments.
————————————————————————————————————————————————
Radical Candor Coach Mike Pugh
Mike speaks from decades of experience on the front lines of leadership. He's seen the impact of Radical Candor at every stage of the organizational life cycle: from startup to scale, from private to public, from acquiree to acquiror, from success to failure.
In his public company roles, Mike held P&L responsibility for a $300 million portfolio of brands, completed dozens of M&A deals, devised and refined new business models, and led teams in creative, engineering, marketing, sales, and product management.
Through this lens, Mike sees feedback as a dynamic marketplace. His work helps teams foster a balance of both supply (giving feedback) and demand (wanting feedback) to achieve a virtuous cycle of Radical Candor.
————————————————————————————————————————————————
Radical Candor Coach Stephanie Usry
The first coach to work with Kim Scott to bring Radical Candor to a wider audience, Stephaine offers executive coaching and leadership facilitation for fast-growing startups and their leaders through her consultancy Not by accident.
Stephanie works with companies from seed stage to Fortune 500, from the Bay Area to South Africa. Her clients come from companies like Google X, JP Morgan, Twitter, NEAR Foundation, Clubhouse and more.
During her career in Silicon Valley, Stephanie scaled sales and operations for HotelTonight (Airbnb), developed the engineering org at Pure Storage, and led People and Places at Vida Health.
————————————————————————————————————————————————
Radical Candor Coach Melissa Andrada
Melissa is a creative DEI strategic advisor, leadership coach, workshop facilitator and motivational speaker collaborating with organizations to co-design a more loving and equitable society.
She frequently gives interactive motivational keynotes focused on empowering marginalized communities (LGBTQ2IA+, women, people of color) and inspiring allies at organizations that have included The New York Times, Google and Out in Tech.
As a queer Filipina American born in Nigeria who came to the U.S. as an undocumented immigrant, Melissa brings an interdisciplinary and intersectional approach to the workplace where strategy, spirituality and social justice intersect.
Her focus within Radical Candor is having heartfelt and uncomfortable conversations on mental health and justice within the workplace.
————————————————————————————————————————————————
Radical Candor Coach Jonny Camara
Jonny is a people development strategist, leadership coach, and diversity, equity and inclusion facilitator based in Berlin, Germany.
The son of an Irish mother and a Senegalese immigrant father, Jonny was raised in Ireland and had to overcome various challenges around identity and belonging.
Navigating these challenges allowed him to discover his passion for understanding people and how they lead themselves and others.
Jonny has been a strong advocate for Radical Candor throughout his career. Whether leading a team or partnering with teams in their development, Radical Candor has always proven to be an inspiring and practical model for mastering the tricky intersections in human communication.
————————————————————————————————————————————————
Radical Candor also partners with leadership coaching experts ilume to bring the concepts of caring personally and challenging directly to Australia, New Zealand and the Asia-Pacific region.
Need more help getting your team to practice giving helpful feedback to each other? Then you need The Feedback Loop (think Groundhog Day meets The Office), a 5-episode workplace comedy series starring David Alan Grier that brings to life Radical Candor's simple framework for navigating candid conversations.
You'll get an hour of hilarious content about a team whose feedback fails are costing them business; improv-inspired exercises to teach everyone the skills they need to work better together; and after-episode action plans you can put into practice immediately to up your helpful feedback EQ.
We're offering Radical Candor readers 10% off the self-paced e-course. Follow this link and enter the promo code FEEDBACK at checkout.
Just Work is Available Everywhere Books Are Sold!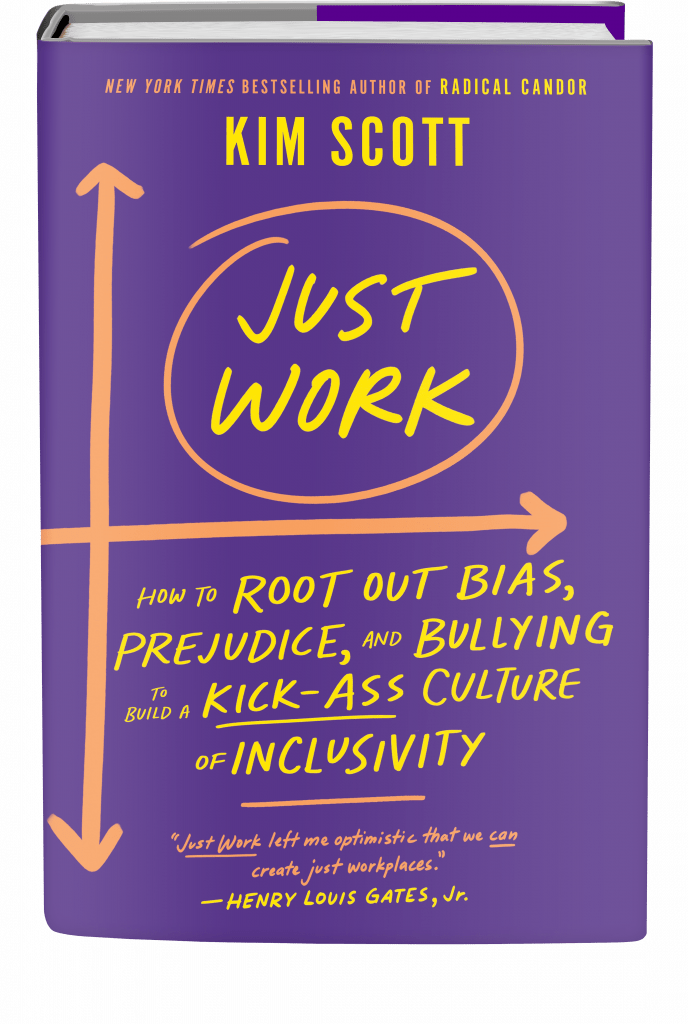 Order Kim's new book, Just Work: How To Root Out Bias, Prejudice, and Bullying to Create a Kick-Ass Culture of Inclusivity, to learn how we can recognize, attack, and eliminate workplace injustice ― and transform our careers and organizations in the process.
We ― all of us ― consistently exclude, underestimate, and underutilize huge numbers of people in the workforce even as we include, overestimate, and promote others, often beyond their level of competence. Not only is this immoral and unjust, but it's also bad for business. Just Work is the solution.
Just Work is Kim's new book, revealing a practical framework for both respecting everyone's individuality and collaborating effectively. This is the essential guide leaders and their employees need to create more just workplaces and establish new norms of collaboration and respect.