The good news is that the term "Radical Candor" has entered the lexicon. The bad news is that there's a risk it becomes a meaningless buzzword.
We need your help to fight this. Please let us know which ideas in the book or the podcast you have rolled out with your team. What's working? What's not? If you're willing, we will feature your stories in our blog and email newsletter. If you want it kept confidential, we will honor that and still use what you've learned to help others.
Radical Candor on HBO's Silicon Valley
One of the most amusing but simultaneously painful examples of Radical Candor as meaningless buzzword was the way it was recently featured on the HBO show Silicon Valley (Season 5/Episode 3).
The real moment of Radical Candor on the show came when Jared told Richard, his boss, "If you're really going to start working with Ben, at least give Dana [Ben's current boss] the common courtesy of telling him the truth about what you are doing. Because if you don't tell him, you're the dog." But that didn't get called out as Radical Candor.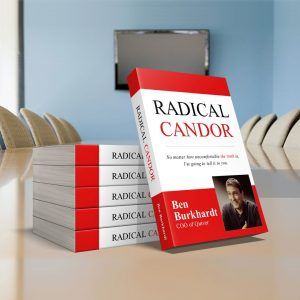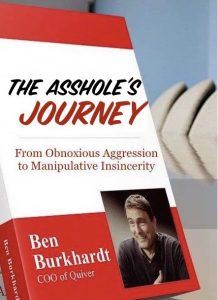 Instead, COO wannabe Ben claims he's being Radically Candid when actually he's just acting like a garden variety jerk, kicking down and kissing up. I call this the Asshole's Journey from Obnoxious Aggression to Manipulative Insincerity. Now I'm being obnoxiously aggressive towards Ben but since he's a fictional character it's legitimately instructive :).
This was funny, but it was also painful because I've seen it happen in real life. I've been in a meeting where someone said, "In the spirit of Radical Candor…" and proceeded to be really cruel.
Also, I recently got this email from one of you: "I gave some feedback – with a specific example – to my boss that the way he is addressing the team (in large team settings) is making them fearful to speak up. A harsh/dismissive tone that shuts a conversation down and often embarrasses the team member that spoke up. Many on the team have shared this sentiment with him already. After the director received this feedback, he responded by saying that he's using radical candor. I feel this is the wrong application of radical candor, specifically finding your quote that 'Radical Candor is kind and helpful.'"
Unfortunately, this is a pretty common experience, so I'll share the articles I suggested this person send to the director to explain the difference between Radical Candor and Obnoxious Aggression.
Are you seeing examples of people confusing Obnoxious Aggression with Radical Candor? Let us know, and thanks for Caring (Personally).