What do bosses do anyways? On this episode of the Radical Candor podcast, we're starting a new series of episodes to answer that question! Is it a manager's job to go to meetings? Send emails? Tell people what to do? Are they supposed to work alongside their teams and carry part of the workload, or dream up strategies and expect other people to implement them? At the end of the day, a boss's job is to guide a team to achieve results. However, depending on the size of your team, that process could look very different. Today we're going to talk about managers of small teams and we're going to define "small" as a team of 10 people or less. Listen to learn three key things every manager of small teams needs to know.
Listen to the episode:
Read the transcript >>
Radical Candor Podcast Episode At a Glance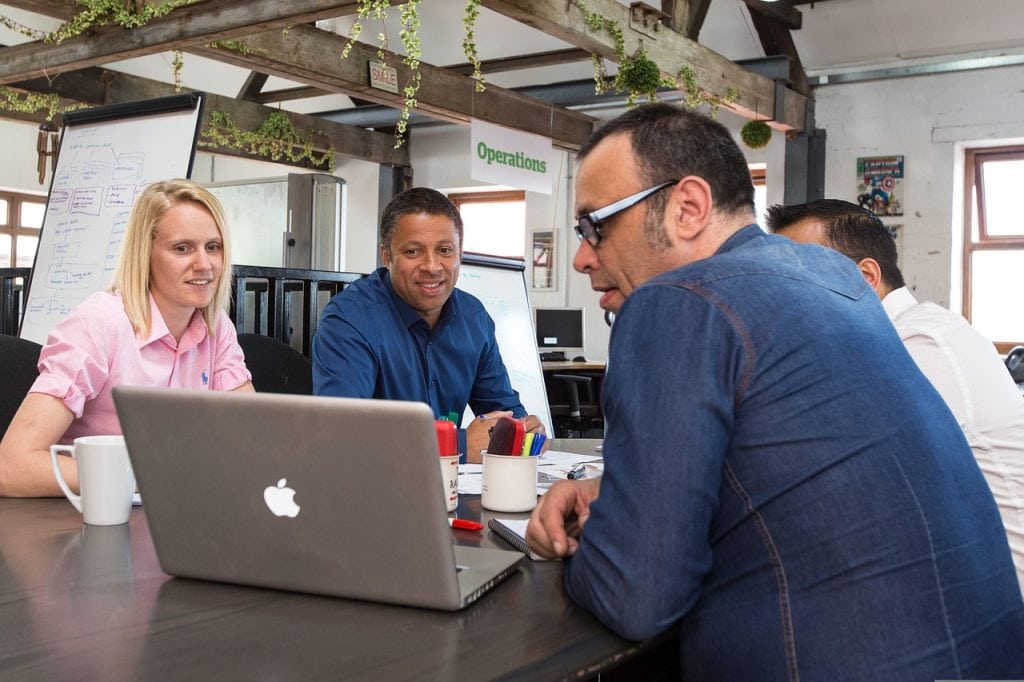 In order to be successful, managers are responsible for guidance, team building and getting results.
Managers listening to this podcast and thinking, "I know I should do these things, but I don't know how," you're not alone. A common issue faced by managers is that they are very likely to have been, until recently, an individual contributor who was doing excellent work. Work so good that it earned them a "promotion" to a management role. 
Unfortunately, many companies fail to recognize that management is a job with discrete skills that need to be learned.  In many companies, managers receive little-to-no training, and this has very real consequences.
A  2018 study by digital services firm West Monroe Partners found that 41% of small-team managers received no training before becoming managers and 42% mimicked the style of a previous manager in lieu of any training or coaching.
And if they're mimicking bad-boss behavior because they don't have any other models, that's going to be a problem for the entire team.
So now you've got someone with no training managing a team — but the issues don't stop there. These managers are also doing a lot of administrative tasks.
"In addition to the lack of training, managers report they're too busy with administrative tasks to adequately oversee their team: 36% report spending three to four hours per day on administrative work. Nearly half (44%) frequently feel overwhelmed at work."
The situation can be so unpleasant that a UK-based survey found that managers who haven't received any management training were 36% more likely to leave their jobs in 2022 than managers who have been trained.
This isn't just a problem for managers; it affects the entire team. The Gallup 2022 State of the Workplace report found: "Managers need to be better listeners, coaches and collaborators." 
People with managers who embody these skills are noted as thriving at work. "95% of people who are thriving at work report being treated with respect all day and 87% report smiling and laughing a lot."
Listen to the full episode to get all the tips and resources!
Radical Candor Podcast Checklist
Think about how you're spending your time and make sure you're focusing on managing your team. Take the time to get to know each person on your team and regularly show appreciation and support for your team's work.

If you're an individual contributor "promoted" to management, assess where you are — take a step to start building competence. Consider seeking out a mentor or coach to help you develop your management skills and read books, listen to podcasts, watch videos, etc.

Admit you have accountability without control. Let go of control and remember that it's part of your job to be held accountable and also hold others accountable.

 Start by soliciting feedback. You need to find out what other people think needs to happen and what you are doing both right and wrong.
Radical Candor Podcast Resources
Have questions about Radical Candor? Let's talk >>
————————————————————————————————————————————————————————————–
Just Work is Available Everywhere Books are Sold!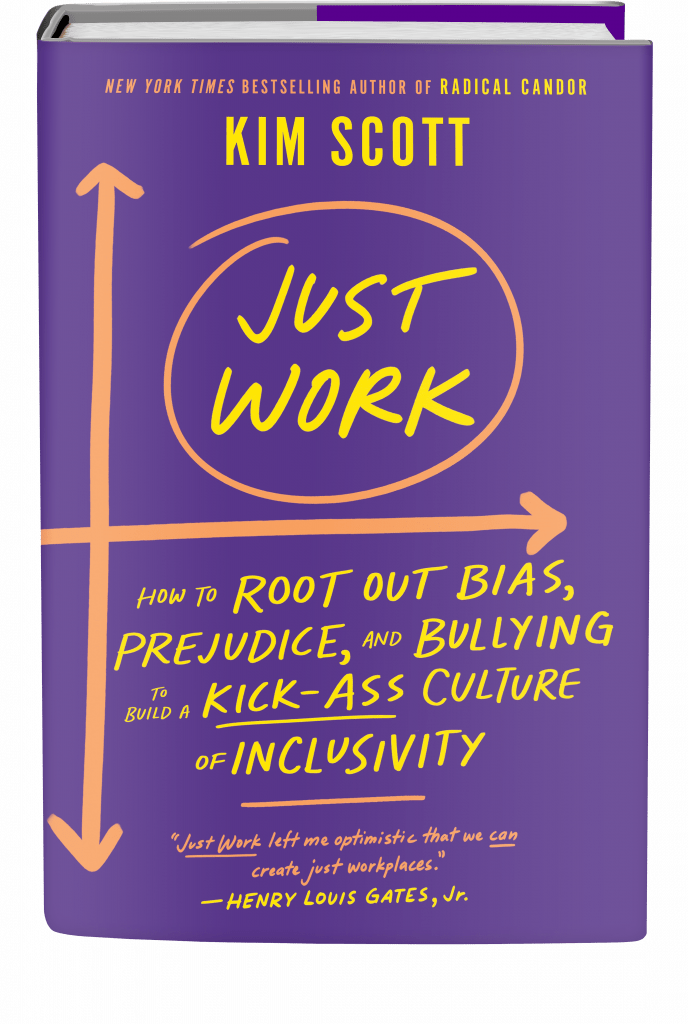 Order Kim's new book, Just Work: How To Root Out Bias, Prejudice, and Bullying to Create a Kick-Ass Culture of Inclusivity, to learn how we can recognize, attack, and eliminate workplace injustice ― and transform our careers and organizations in the process.
We ― all of us ― consistently exclude, underestimate, and underutilize huge numbers of people in the workforce even as we include, overestimate, and promote others, often beyond their level of competence. Not only is this immoral and unjust, but it's also bad for business. Just Work is the solution.
Just Work is Kim's new book, revealing a practical framework for both respecting everyone's individuality and collaborating effectively. This is the essential guide leaders and their employees need to create more just workplaces and establish new norms of collaboration and respect. Read more >>
Radical Candor Podcast Listeners Get 10% Off The Feedback Loop
Improvising Radical Candor, a partnership between Radical Candor and Second City Works, introduces The Feedback Loop (think Groundhog Day meets The Office), a 5-episode workplace comedy series starring David Alan Grier that brings to life Radical Candor's simple framework for navigating candid conversations.
You'll get an hour of hilarious content about a team whose feedback fails are costing them business; improv-inspired exercises to teach everyone the skills they need to work better together, and after-episode action plans you can put into practice immediately.
We're offering Radical Candor podcast listeners 10% off the self-paced e-course. Follow this link and enter the promo code FEEDBACK at checkout.
Watch the Radical Candor Videobook
We're excited to announce that Radical Candor is now available as an hour-long videobook that you can now stream at LIT Videobooks. Get yours to stream now >>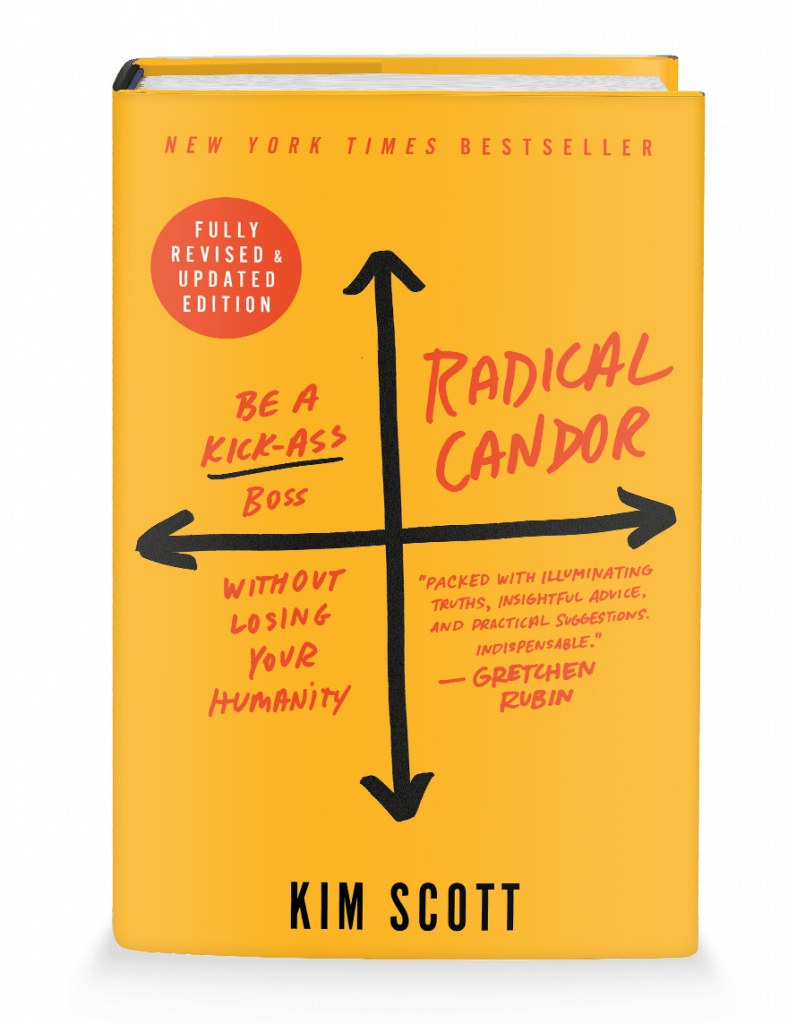 The Radical Candor Podcast is based on the book Radical Candor: Be A Kickass Boss Without Losing Your Humanity by Kim Scott.
Episodes are written and produced by Brandi Neal with script editing by Amy Sandler. The show features Radical Candor co-founders Kim Scott and Jason Rosoff and is hosted by Amy Sandler.
The Radical Candor Podcast theme music was composed by Cliff Goldmacher. Order his book: The Reason For The Rhymes: Mastering the Seven Essential Skills of Innovation by Learning to Write Songs.
Sound editing by PodcastBuffs.
Sign up for our Radical Candor email newsletter >>
Shop the Radical Candor store >>
Meet the team >>