Once your idea has been implemented, you probably think you're done with this whole Get Shit Done Wheel thing — but there's one more step, Learn. On this episode of the Radical Candor Podcast, Kim, Jason and Amy talk about how creating a culture of learning can make it safe for people to fail, help mitigate future mistakes and ensure everyone knows how to repeat success. Sounds simple, right? Not so fast. There are two things that can get in the way of learning. Listen to find out what they are!
Listen to the episode:
Radical Candor Podcast Episode At a Glance
Kim, Jason and Amy discuss why it's important to learn from mistakes and successes alike to keep improving. And why denial is actually the more common reaction to imperfect implementation than learning.
Let's face it — no one wants to admit they have an ugly baby, but not admitting it doesn't mean it's not true.
There are two main barriers to learning:
1. The Pressure to Be Consistent
You obviously can't change course like this lightly, and if you do, you need to be able to explain clearly and convincingly why things have changed. Revisit the listen, clarify, debate, and decide steps with an inner circle. 
When it is time to persuade the broader team again after you've reached a new conclusion, it is important to take a deep breath and share, patiently and repeatedly, how you got there, and to call out the change in direction explicitly.
 2. Burnout
Sometimes we're overwhelmed by our work and personal lives, and these are the moments when it is hardest to learn from our results and to start the whole cycle over again.
In 2019 — before the pandemic even began — burnout was officially recognized as a work-related phenomenon by the World Health Organization and characterized by 3 dimensions:
feelings of energy depletion or exhaustion;

increased mental distance from one's job, or feelings of negativism or cynicism related to one's job; and

reduced professional efficacy.
Kim says, "The essence of leadership is not getting overwhelmed by circumstances." How do people walk this line, and how can managers set expectations for their teams to help them avoid burning out? Listen to the episode to learn more!
Radical Candor Podcast Checklist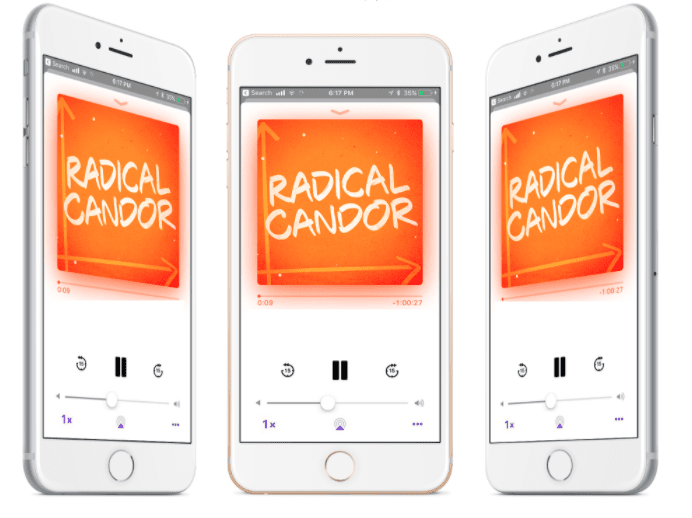 Sometimes you have to say whoops-a-daisy.

Don't let the pressure to be consistent keep you from acknowledging when things could have gone better. If you have to change course, you need to be able to explain clearly and convincingly why things have changed. This often means revisiting the listen, clarify, debate, and decide steps of the Get Shit Done Wheel.

Make it safe for everyone to fail

and create a culture that fosters a

positive relationship between learning from failure and self-development

.

You can only accomplish this if

you've built a trusting relationship with each person reporting to you, and there can only be real trust when people feel free at work and

everyone

has a safety net.

 Show up for yourself. Put the things you need to do for yourself on your calendar, just as you would an important meeting. Don't blow off those meetings with yourself or let others schedule over them any more than you would a meeting with your boss.
Make workflows and learning visible using tools like Kanban boards and by "walking around" the office. If you're virtual, you can check in using a collaboration tool like Joyous.
Quantify the benefits of what you've learned. This allows you to celebrate failure along with success and it destigmatizes failure.
Radical Candor Podcast Resources
Have questions about Radical Candor? Let's talk >>
————————————————————————————————————————————————————————————–
Just Work is Available Everywhere Books are Sold!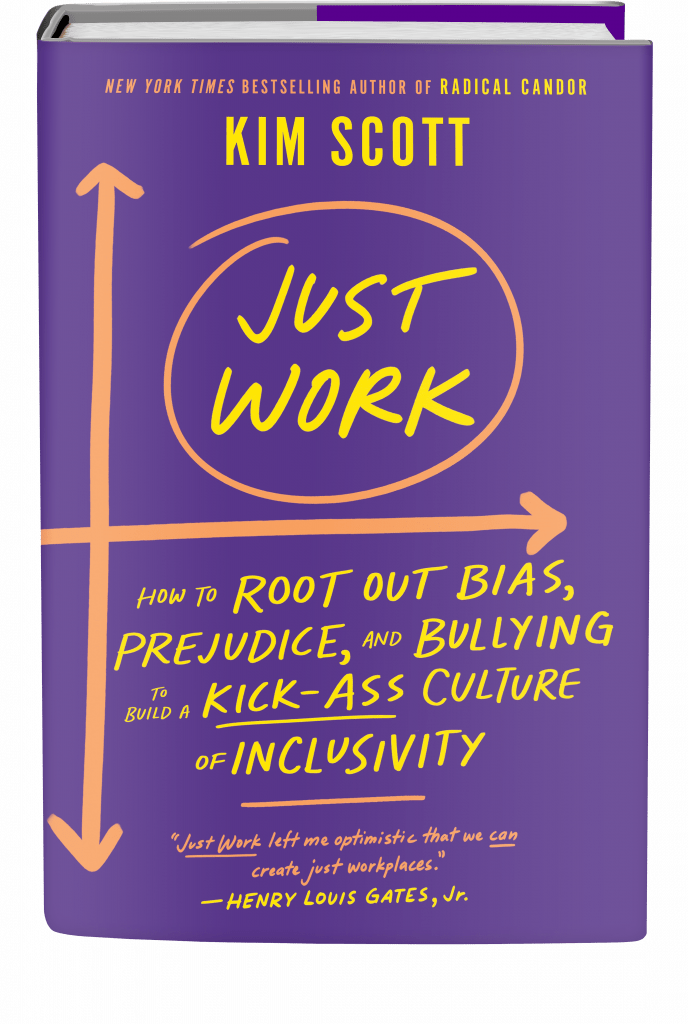 Order Kim's new book, Just Work: How To Root Out Bias, Prejudice, and Bullying to Create a Kick-Ass Culture of Inclusivity, to learn how we can recognize, attack, and eliminate workplace injustice ― and transform our careers and organizations in the process.
We ― all of us ― consistently exclude, underestimate, and underutilize huge numbers of people in the workforce even as we include, overestimate, and promote others, often beyond their level of competence. Not only is this immoral and unjust, but it's also bad for business. Just Work is the solution.
Just Work is Kim's new book, revealing a practical framework for both respecting everyone's individuality and collaborating effectively. This is the essential guide leaders and their employees need to create more just workplaces and establish new norms of collaboration and respect. Read more >>
Radical Candor Podcast Listeners Get 10% Off The Feedback Loop
Improvising Radical Candor, a partnership between Radical Candor and Second City Works, introduces The Feedback Loop (think Groundhog Day meets The Office), a 5-episode workplace comedy series starring David Alan Grier that brings to life Radical Candor's simple framework for navigating candid conversations.
You'll get an hour of hilarious content about a team whose feedback fails are costing them business; improv-inspired exercises to teach everyone the skills they need to work better together, and after-episode action plans you can put into practice immediately.
We're offering Radical Candor podcast listeners 10% off the self-paced e-course. Follow this link and enter the promo code FEEDBACK at checkout.
The Radical Candor Podcast theme music was composed by Cliff Goldmacher. Order his book: The Reason For The Rhymes: Mastering the Seven Essential Skills of Innovation by Learning to Write Songs.
Sign up for our Radical Candor email newsletter >>
Shop the Radical Candor store >>