To Compete With a Work Martyr, Don't Play the Game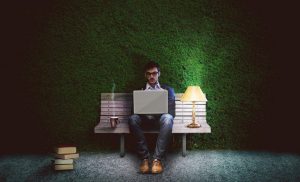 It's frustrating to work with somebody who expects to be rewarded for being more miserable than you are, who's constantly trying to engage in a contest about who can work longer hours, who has masochism confused with commitment. These people are known as work martyrs. And if your boss is too blind to see what's going on, it's even harder. I used to try to compete with work martyrs.
But, truth be told, work martyrs aren't always as bad as you think. I once worked with a group who worked all the time: 90-hour weeks were common. At first, I thought of them as work martyrs and that made me feel resentful. Over time though, I realized they just wanted to live differently than I did. For them, work was the safest, happiest place on earth. They actually liked being at the office all the time.
Rather than trying to compete with these people, continue striving to do your best. And when you feel like you're getting sucked into work martyrdom, keep these tips in mind.
Do's and Don'ts When You're Tempted to Compete With Work Martyrs
Do prioritize your work. Identify all the things you're doing that aren't necessary and just quit doing them. Extra time in the office, for example, is rarely imperative. If you still have too much work to do, make sure you understand your team's top priorities, and put low priority work on a "do not do" list. (One note: seek explicit agreement from your boss that you've gotten the priorities correct, and that it's OK not to do the less important stuff so you can focus on what really matters.)
Don't enter competitions you don't want to win. That means not attempting to put in more hours than the people around you. You'll probably lose if you try, and if you win, you lose in the end when you find yourself burned out and resentful.
Do set your own boundaries, and let others work the way that works for them. When I was in a similar position and relayed to my team how much I was realistically willing to work, they were absolutely fine with it. They didn't care if I was there 40 hours or 70.
But they didn't want to be kept to a maximum either. I knew not to insist they work less if they were genuinely eager to be there. So be clear with your colleagues where your boundaries are — and respect that theirs may be different.
Don't become promotion-obsessed. We live in a culture fixated on external rather than internal validation. At work, this often plays out in an over-emphasis on promotions, title changes, and expanded responsibilities instead of the often more meaningful professional growth and stability.
Do focus on what's most important to you, and to getting it. Working fewer hours does not have to translate to lower ambition. It does have to mean really clear thinking, greater efficiency, and more ruthless prioritization.
Don't concede defeat if you do want to move up but you simply can't put in the hours because of demands from your personal life. If you prioritize wisely, and don't waste time at work, you'll be amazed how much you can get done. When I asked Susan Wojcicki, the CEO of YouTube, about balancing work and parenthood, she had a simple formula: "You work less."
And there you go, a few guiding tips for when you're worried about competing with people who are putting in more hours. Remember: Success isn't measured by the hours you spent sitting in front of your computer. Success is measured by your results, and how fulfilled you feel achieving those results.
A version of this story was originally published on Ask a Candid Boss on The Muse.