Micromanagement, Absentee Management or Thought Partnership — Which One Do You Practice?
We call the practice of managers who have low, almost non-existent involvement in their team's work absentee management. Those with extremely (maybe excruciatingly) close involvement are micromanaging. And in between are those committed to thought partnership, the ones who empower, enable and encourage their teams to do the best work of their lives.
How can you determine where you fall on this spectrum so you can learn how to move in the right direction instead of being a micromanager or an absentee manager? (We want to emphasize that these are behaviors and not personality traits.)
To help you figure out when you're being a good partner rather than slipping into micromanagement or absentee management, I've developed a simple chart. I hope it will help you better partner with the people who report to you.
One of the best ways to keep the people on your team engaged is by actively partnering with them.
No one wants to work for an absentee manager who makes it feel like there is no one in charge at all. In general, absentee managers don't give guidance, aren't open to receiving feedback and don't assist their employees. They also tend to lack curiosity about what their employees are doing. Even worse, they might not want to know at all.
A true absentee manager doesn't want any details, which allows them to remain unaware of problems.
On the other hand, a micromanager gets in the weeds with everything their employees do. While they have no problem expressing their opinions, they're not skilled at listening to others.
This means they often create more problems than they solve. Micromanagement is a form of bullying and micromanagers only see one way to do things — their way.
They lack curiosity, get lost in small details instead of seeing the big picture and often ask their employees to spend a lot of time updating them on their every move.
A micromanager tells employees how to solve problems with no real knowledge of the actual issues, then watches from a safe distance to avoid being burned in the explosion.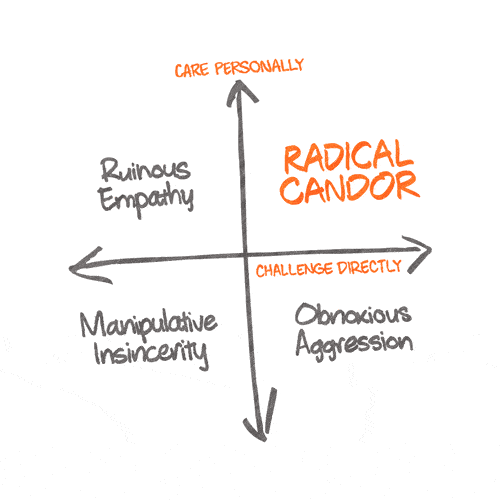 While a lot of people are absentee or micromanagers, no one thinks they are either of these things. However, if you're not doing what's necessary to be a real partner, you are one of the former whether you like it or not.
In order to be a true thought partner with each of your employees you need to be involved, listen with the intent to understand versus respond and ask relevant questions.
If you want to be a kick-ass boss instead of having team members who want to kick your ass, work with your employees to set goals that make sense, actively listen to problems and help brainstorm solutions.
The bottom line: A true thought partnership is a team effort.
Read our in-depth post about how to be a thought partner by Career Conversations Creator Russ Laraway >>
————————————————————————————————————————————————————————————–
*This post was updated June 9, 2022
Download our free learning guides to start putting Radical Candor into practice.
Sign up for our Radical Candor email newsletter >>
Shop the Radial Candor store >>
Book a keynote or workshop >>
Need more help getting your team to practice giving helpful feedback with each other? Then you need The Feedback Loop (think Groundhog Day meets The Office), a 5-episode workplace comedy series starring David Alan Grier that brings to life Radical Candor's simple framework for navigating candid conversations.
You'll get an hour of hilarious content about a team whose feedback fails are costing them business; improv-inspired exercises to teach everyone the skills they need to work better together; and after-episode action plans you can put into practice immediately to up your helpful feedback EQ.
We're offering Radical Candor readers 10% off the self-paced e-course. Follow this link and enter the promo code FEEDBACK at checkout.
Just Work is Available Everywhere Books Are Sold!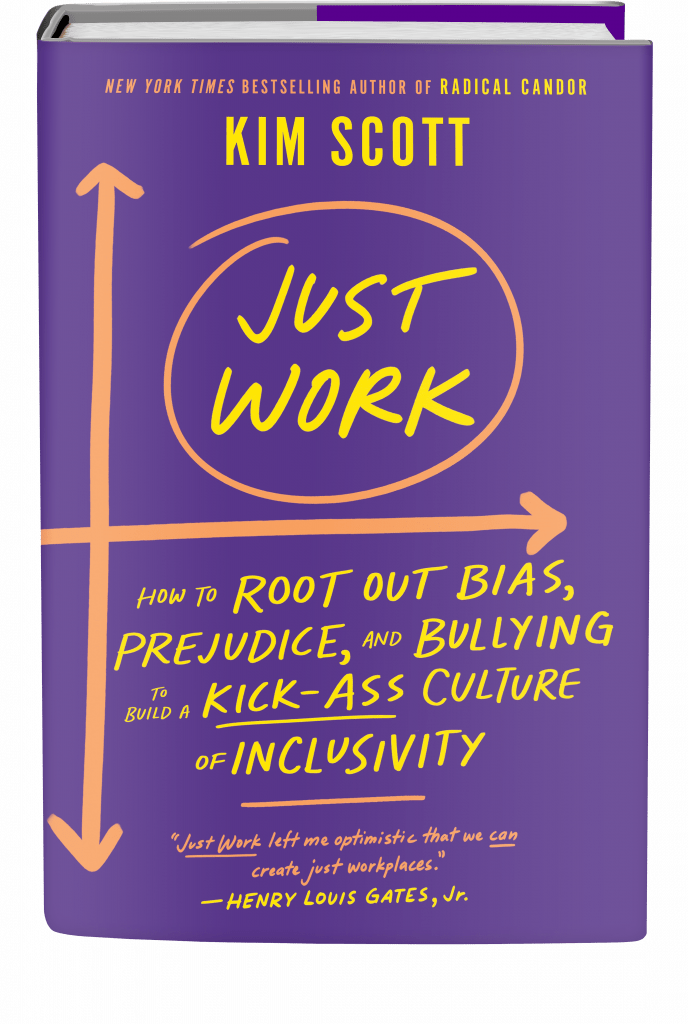 Order Kim's new book, Just Work: How To Root Out Bias, Prejudice, and Bullying to Create a Kick-Ass Culture of Inclusivity, to learn how we can recognize, attack, and eliminate workplace injustice ― and transform our careers and organizations in the process.
We ― all of us ― consistently exclude, underestimate, and underutilize huge numbers of people in the workforce even as we include, overestimate, and promote others, often beyond their level of competence. Not only is this immoral and unjust, but it's also bad for business. Just Work is the solution.
Just Work is Kim's new book, revealing a practical framework for both respecting everyone's individuality and collaborating effectively. This is the essential guide leaders and their employees need to create more just workplaces and establish new norms of collaboration and respect.