A Radical Candor Rollout: Interview with Gather
We recently got the chance to talk with another leader who has rolled out Radical Candor on his team, and we wanted to share his experiences with you. Nicholas Miller is the co-founder and CEO of Gather, a company creating event management software for restaurants and other venues. Here's how he introduced Radical Candor at Gather, and how it has helped them evolve their feedback culture.
How did you hear about Radical Candor, and how did you introduce it to your team?
I first read about the idea of Radical Candor in Kim Scott's First Round Review article (Radical Candor — The Surprising Secret to Being a Good Boss), and it stuck with me. After reading about Kim's success rolling the management style out across teams at multiple companies, I started to consider the positive impact it could have on our team at Gather. So first, I introduced the idea to the leadership team by simply sharing the article. Later, we read the book as a team in our Leadership Team Book Club.
More recently, we've incorporated many of the concepts in Radical Candor into our new manager training program. For example, we encourage our managers to empower their teams to "get it right," not "be right," and invest in building meaningful relationships with their direct reports.
What was the initial reception like in your company?
We've had great reception from the leadership team! The most consistent feedback we received previously was that our managers were only providing feedback during performance reviews, which meant that reviews were approached with apprehension. The idea that "Reviews should be a Summary" instantly struck a chord throughout the company. We now really encourage our managers to provide immediate direct feedback.
We also promote Radical Candor's approach of constructive feedback in private and praise in public. Though it may seem like common sense, it's not always obvious that constructive feedback should always be a private discussion. And it's also a great reminder to focus not just on the things our team can do better, but the things they're doing well today. Too much focus on improvements is certainly something I've been guilty of!
Why is the idea of Radical Candor important for Gather?
We move extremely quickly as a company. Everyone needs to know where they stand at any given moment – meaning managers don't have time to skirt around the issues. It's essential that they're always aligned with their direct reports and the concepts in Radical Candor provide a frame of reference for doing so efficiently and effectively.
Additionally, we love promoting from within whenever we can – and as a result a lot of our middle management is comprised of new managers. We've been able to bring new managers up to speed more effectively with a framework for educating new managers on how to effectively develop relationships with direct reports. Basically, Radical Candor has provided a great high-level way to think about being a great manager at Gather.
What has been the impact of Radical Candor on your team?
It's had a significant impact on our team. Overall, it's encouraged our managers to step outside of their comfort zones, engage in healthy debates, and think about feedback in a different light. It's helped us open all lines of communication between manager and direct reports, and implementing the concepts in Radical Candor has been a positive experience for everyone.
As an example — we had a situation where one of our managers felt like he was struggling to communicate effectively with his direct reports. He didn't feel like he was having open, honest conversations, and felt like the root cause could be his communication style. He started using the Care Personally, Challenge Directly chart at the end of conversations with them, asking them to tell him where on the chart they felt the conversation had landed. This led to a greater understanding of his team, stronger relationships with direct reports and, ultimately, a better functioning team.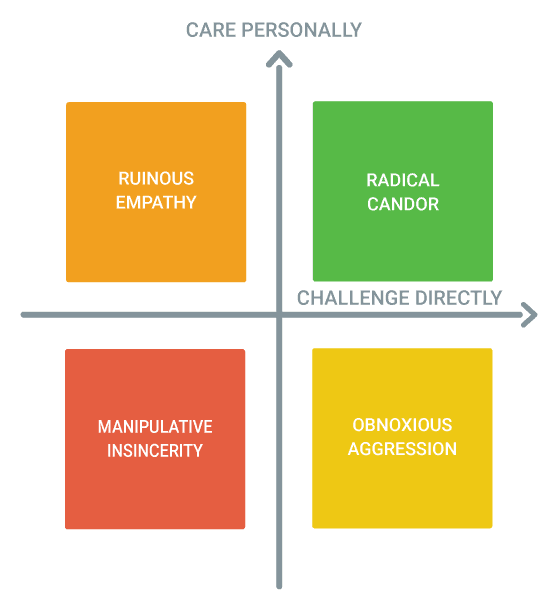 Another recent example is when I noticed a new direct report of mine didn't seem to love getting direct feedback from me. To create an open relationship, I asked him to share feedback on how I was doing after every single meeting we were both a part of, including one-on-ones, and then actively solicited it. Slowly, the dialogue evolved into two-way feedback. Now we have more frequent and explicit conversations about feedback than I do with any of my other direct reports!
What recommendations do you have for other teams that want to start introducing Radical Candor?
Like anything else, it's not something you need to introduce all at once. There are a lot of piecemeal concepts that can have an impact on your team, or may even just impact the way you think about certain people operations challenges as you scale.
Gradually rolling out the ideas and concepts in Radical Candor that resonate with you makes it easier for teams to grasp the concepts and gives them the opportunity to put them into action at their own pace.
Thanks so much to Nick and Gather for sharing their Radical Candor experiences with us!