According to research from Gallup, less than 15% of managers feel confident that the feedback they provide to employees is effective and only 26% of employees say the feedback they receive from their managers is helpful. Sound familiar? If you're forgetting the helpful part of Radical Candor, your feedback is probably falling flat. On the second mini-episode of the Radical Candor podcast, Kim explains why Radical Candor is helpful and talks about the helpful feedback she got from a complete stranger that gave her words to live by: It's not mean, it's clear.
Listen to the episode:
How To Give Helpful Feedback
Take a moment to think through the reason why you plan to deliver the feedback. If you are clear in your own mind about how your feedback will be helpful, it will come across to the other person naturally. But if you don't understand why your feedback is helpful, how will the person receiving it know why it's helpful?
Tell the person that you are trying to be helpful. Try a little preamble for hard criticism. For example, try saying, in words that feel like you, "I'm going to tell you something because if I were in your shoes I'd want to know so I could fix it." Simply exposing your intent to be helpful offers clarity to the other person about your intentions. Most people will want to hear whatever it is you're going to say. Read more about helpful feedback >>
The Two Minutes That Changed Everything
"The idea of Radical Candor was born for me when a perfect stranger on a street corner in the East Village of New York City criticized something I was doing, and he was helpful. I still have no idea who he is, but I am enormously grateful to him because he changed my whole life in two minutes flat. That stranger helped me be a better dog owner, a better manager, and a better person by being Radically Candid with me while we were waiting for a light to change." — Kim Scott
Just Work is Available Everywhere Books Are Sold!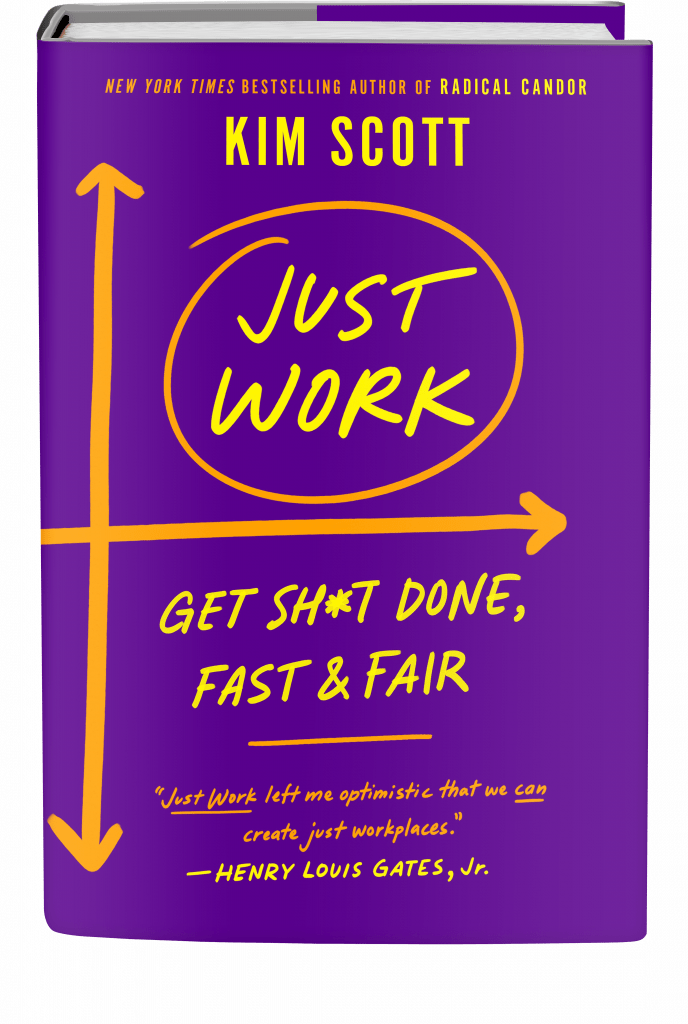 Order Kim's new book, Just Work: Get Sh*t Done, Fast & Fair, to learn how we can recognize, attack, and eliminate workplace injustice ― and transform our careers and organizations in the process.
We ― all of us ― consistently exclude, underestimate, and underutilize huge numbers of people in the workforce even as we include, overestimate, and promote others, often beyond their level of competence. Not only is this immoral and unjust, but it's also bad for business. Just Work is the solution.
Just Work is Kim's new book, revealing a practical framework for both respecting everyone's individuality and collaborating effectively. This is the essential guide leaders and their employees need to create more just workplaces and establish new norms of collaboration and respect.
Radical Candor Podcast Listeners Get 10% Off The Feedback Loop
Improvising Radical Candor, a partnership between Radical Candor and Second City Works, introduces The Feedback Loop (think Groundhog Day meets The Office), a 5-episode workplace comedy series starring David Alan Grier that brings to life Radical Candor's simple framework for navigating candid conversations.
You'll get an hour of hilarious content about a team whose feedback fails are costing them business; improv-inspired exercises to teach everyone the skills they need to work better together, and after-episode action plans you can put into practice immediately.
We're offering Radical Candor podcast listeners 10% off the self-paced e-course. Follow this link and enter the promo code FEEDBACK at checkout.
The Radical Candor Podcast theme music was composed by Cliff Goldmacher. Order his book: The Reason For The Rhymes: Mastering the Seven Essential Skills of Innovation by Learning to Write Songs.