The Radical Candor book — Kim Scott's #1 bestseller that's reshaping modern management
Get "Radical Candor," the book that's been translated into 20 languages, inspired a management revolution and launched a global executive education company founded by Kim Scott and Jason Rosoff.
Read the Radical Candor book with your team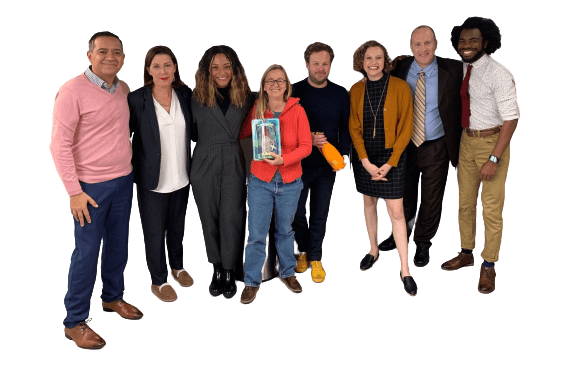 Introduce your team to Radical Candor by reading the book together and
committing to implementing one idea per month. Get bulk-book discounts below.
Watch the Radical Candor Videobook
We're excited to announce that business leadership book Radical Candor is now available
as an hour-long videobook that you can now stream at LIT Videobooks.
Praise for Radical Candor
"With Radical Candor, Kim has bottled some of Google's magic and shared it with the world."
Shona Brown
Former SVP Business Operations at Google
"Radical Candor is packed with illuminating truths, insightful advice and practical suggestions, all illustrated with engaging (and often funny) stories from Kim Scott's own experiences at places like Apple, Google and various start-ups. Indispensable."
Gretchen Rubin
Author of NYT bestseller 
The Happiness Project
"Kim Scott has a well-earned reputation as a kickass boss and
a voice that CEOs take seriously...
If you manage people—whether it be 1 person or a 1,000—you need Radical Candor. Now."
Daniel Pink
Author of NYT bestseller Drive
"Reading Radical Candor will help you build, lead and inspire teams to do the best work of their lives."
Sheryl Sandberg
Author of the NYT bestseller Option B
For a Just Workplace, You Need 'Radical Respect'
Learn how we can all recognize, attack and eliminate workplace injustice ― and transform our careers and organizations.
"Radical Respect: How to Work Together Better" reveals a practical framework for both respecting everyone's individuality and collaborating effectively.
This book is the essential guide leaders and their employees need to create more just workplaces and establish new norms of collaboration and Radical Respect.
Speaking of candor
Every day people tell us that learning to Care Personally and Challenge Directly has made their teams happier and more productive.
"It's been an incredible journey for us — from book studies to informal discussion, the Radical Candor quadrants have become a new vocabulary in our district. The positive impact of Radical Candor has been far-reaching, thank you!"
Becky Peters
St. Vrain Valley School District
Colorado, USA
"The AsiaPacific leadership team used this workshop to assess and improve how they communicate to their teams and each other, integrating learnings from the Indian, Singaporean, and Australian cultures while together. Having a Radical Candor coach and peers from other regions to practice with was invaluable."
Clare Martin
MiQ
Bangalore, India
"Thank you so much for coming and working with our team. Everyone loved the workshop…everything you shared with us will help us be our best selves and best Hireologists."
Christen Calloway
Hireology
Illinois, USA
"I loved it! I was already familiar with the concept, and still it was a great conversation…Meeting these world-class business 'gurus' is very inspiring and aspirational."
Nubank team member
São Paulo, Brazil
"I've only heard GREAT things about the training. It makes me so proud of this team to hear them reflecting on their styles and thinking about what they need to change in their behaviors."
Janel Lao
Jobvite
California, USA
Radical Candor:
a Global Phenomenon
Radical Candor is being shared at companies around the world. Read all about it.