Join Natasha Osmond-Dreyer, Radical Candor's Australia-Based Candor Coach, for a Public 2-Hour Radical Candor Workshop
Join Natasha Osmond-Dreyer, Radical Candor's Australia-based Candor Coach, for a public two-hour Radical Candor workshop on 07/22/22 from 11 a.m. — 1 p.m. AEST. This workshop has only 21 spaces available, so sign up right away to reserve your spot.
We've all had "feedback fails" — those times we didn't give a colleague feedback because we were afraid of hurting their feelings, or we did it in a way that ended up backfiring.
In this practical and interactive session, you'll learn how the Radical Candor framework of Caring Personally while Challenging Directly can help you give and receive feedback more effectively.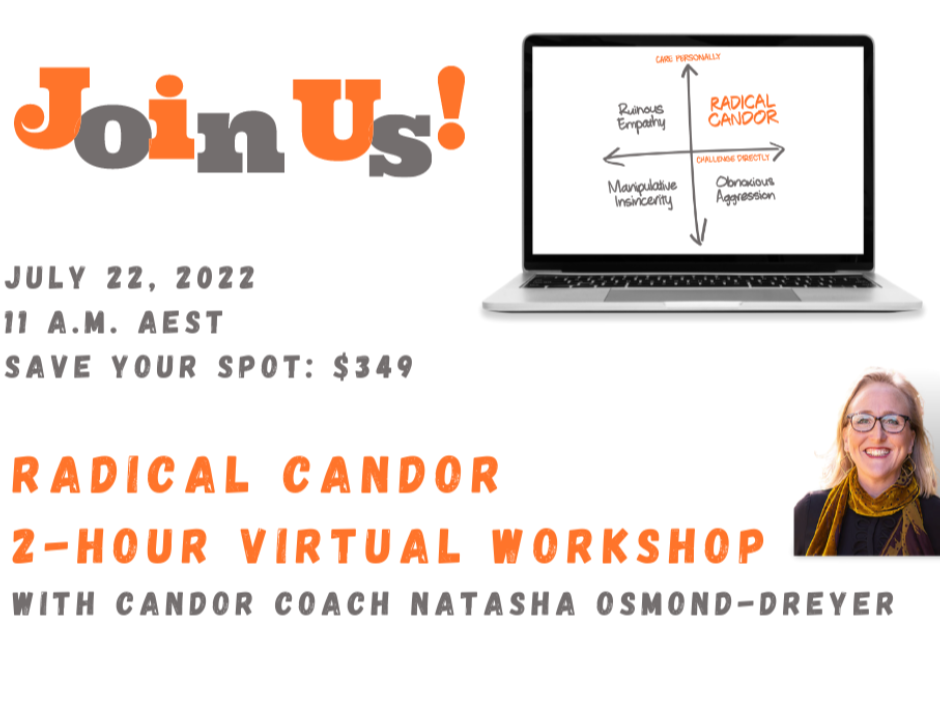 In this two-hour Radical Candor Workshop session, you'll collaborate with other attendees through whole-group and breakout-group discussions to start applying the core behaviors of Radical Candor.
This Radical Candor Workshop is great for:
People who are just learning about Radical Candor and want to augment the ideas with practice.
People who have just joined an organization that practices Radical Candor and want to learn more.
Execs, Managers, and HR pros considering training their teams in Radical Candor and would like to try it themselves first.
Radical Candor takes practice — here's your chance to get some feedback practice in a safe and supportive environment. (This session is time optimized for our APAC/AUS-NZ region, but all are welcome.)
---
Sign up for our Radical Candor email newsletter >>
Shop the Radial Candor store >>
Need help practicing Radical Candor? Then you need The Feedback Loop (think Groundhog Day meets The Office), a 5-episode workplace comedy series starring David Alan Grier that brings to life Radical Candor's simple framework for navigating candid conversations.
You'll get an hour of hilarious content about a team whose feedback fails are costing them business; improv-inspired exercises to teach everyone the skills they need to work better together, and after-episode action plans you can put into practice immediately to up your helpful feedback EQ.
We're offering Radical Candor readers 10% off the self-paced e-course. Follow this link and enter the promo code FEEDBACK at checkout.