On this episode of the Radical Candor podcast, Amy and Jason discuss why it's so important to share your stories with your team. Show some vulnerability. Your personal stories will explain, better than any management theory, what you really mean and show why you really mean it. That's why Kim tells all those personal stories in Radical Candor. Your stories will mean a lot more to your team than other people's stories do because they mean something to you. So, what makes a good story, and what's appropriate to share? Amy and Jason break it down. 
Listen to the episode:
Episode at a Glance
When you implement Radical Candor with your team, it's important to explain Radical Candor so they understand what you're up to. Sure, you can ask them to read the book and use our chapter-by-chapter study guide to deepen understanding.
You can also show them videos from the series we created with Amazon, Day One: Insights for Entrepreneurs. But it's best if you explain it in your own words. Tell your stories to your team. Show some vulnerability. You can use the resources below for inspiration!
Radical Candor Book Club
Radical Candor Book Club Discussion Questions: A Complete Guide
Radical Candor Overview
Watch: Radical Candor In 6 Minutes
Watch: Day One: Insights for Entrepreneurs
Examples of Stories
Watch: A Story of Obnoxious Aggression
Watch: Radical Candor and Ruinous Empathy: The Bob Story
Watch: A Story of Manipulative Insincerity
The Radical Candor Podcast Checklist
 Tell your stories to your team, model vulnerability, explain what radical candor means in your own words. And by doing this, you're creating an environment of psychological safety, where you show your humanity to the team and you invite them to do the same.

Be specific. Good stories have details that bring them to life. Make sure to include context: what you observed, what the results are, and what happened next.

Good stories help us build empathy. So think about the people you work with, especially those you might be having some difficulties with and the situation that you're involved in. What does it look like from their perspective? What story might they be telling?

Try out the six-word memoir practice. It could be about you, your weekend, your company's mission, or your radical candor story, but do it as a group. It's an opportunity to get different perspectives.
Download the Rolling Out Radical Candor e-Guide >>
Just Work is Available for Pre-Order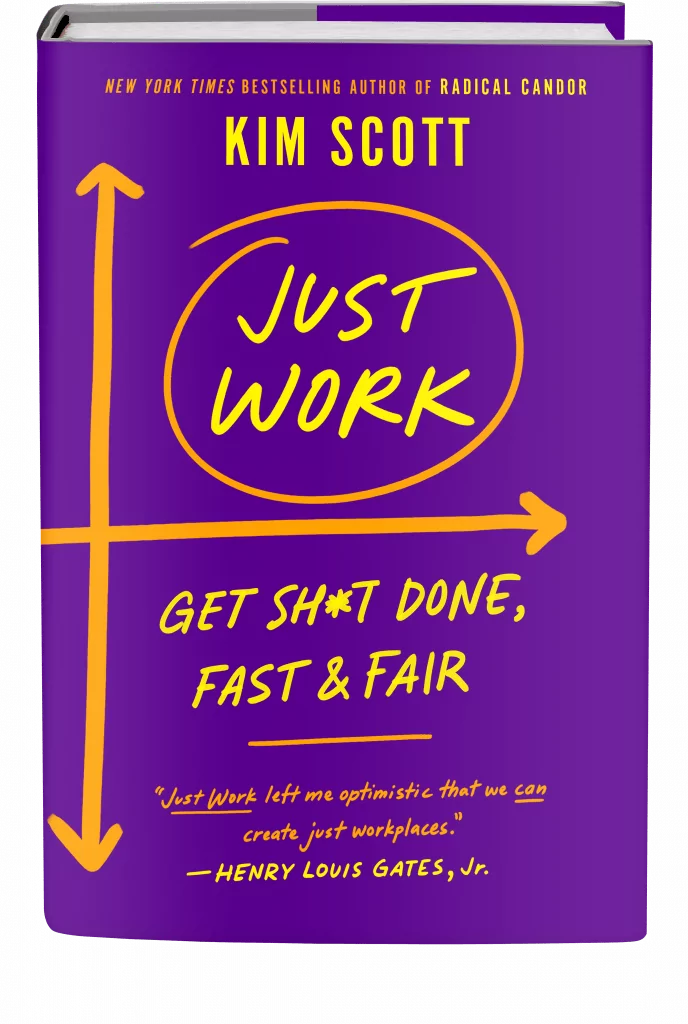 Pre-order Kim's new book, Just Work: Get Sh*t Done, Fast & Fair, to learn how we can recognize, attack, and eliminate workplace injustice ― and transform our careers and organizations in the process.
We ― all of us ― consistently exclude, underestimate, and underutilize huge numbers of people in the workforce even as we include, overestimate, and promote others, often beyond their level of competence. Not only is this immoral and unjust, but it's also bad for business. Just Work is the solution.
Just Work is Kim's new book, revealing a practical framework for both respecting everyone's individuality and collaborating effectively. This is the essential guide leaders and their employees need to create more just workplaces and establish new norms of collaboration and respect.
Radical Candor Podcast Listeners Get 10% Off The Feedback Loop
Improvising Radical Candor, a partnership between Radical Candor and Second City Works, introduces The Feedback Loop (think Groundhog Day meets The Office), a 5-episode workplace comedy series starring David Alan Grier that brings to life Radical Candor's simple framework for navigating candid conversations.
You'll get an hour of hilarious content about a team whose feedback fails are costing them business; improv-inspired exercises to teach everyone the skills they need to work better together, and after-episode action plans you can put into practice immediately.
We're offering Radical Candor podcast listeners 10% off the self-paced e-course. Follow this link and enter the promo code FEEDBACK at checkout.
The Radical Candor Podcast theme music was composed by Cliff Goldmacher. Order his book: The Reason For The Rhymes: Mastering the Seven Essential Skills of Innovation by Learning to Write Songs.