One of the most common mistakes bosses make is thinking their job is to tell people what to do. But that doesn't work! So how can you get people moving in the same direction and achieving results collaboratively? Listen to this week's episode for tips from Russ and Kim about how NOT to tell people what to do.
Listen now:
In This Week's Episode
Kim and Russ have both learned the hard way that telling people what to do doesn't work. Kim shares a story about joining a team and having 3 of her 5 her direct reports quit in one week, and Russ tells a story about being a new lieutenant, essentially a new manager, who thinks he knows a lot.
Learn from their mistakes and their realizations that one person does not have all the answers. As Kim says:
Imagine that you've got a long rope and you're spinning it over your head. It doesn't feel like the rope is moving that fast to you, but if you're at the end of the rope, it feels like you're going to get flung off.
This episode also includes a listener questioner about not wanting to be a dictator, but feeling like one when announcing decisions. Russ and Kim give their advice for getting your team on board with the decisions that are made.
The episode finishes with specific ways that you can ensure that you're not telling people what to do.
This Week's Candor Checklist
Tip 1: Let direct reports choose the agenda for 1:1 meetings
Tip 2: In team meetings, make it clear whether the agenda is to debate or decide
Tip 3: You are not the decider
Listen to the episode for the full descriptions of these tips.
Additional Reading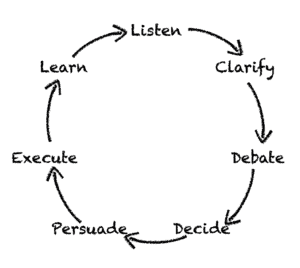 This week's episode touches on Candor, Inc.'s approach to Achieving Results. It's important to be able to work collaboratively as a team to achieve results, but it's also very hard. We created a framework called the "Get Stuff Done" (GSD) Wheel to help teams with this.
We introduced the steps of this wheel in a blog post about how to help new managers succeed, and we'll dive into more detail in future posts and podcast episodes.
In this episode, Russ and Kim mention some ways to think about a few of these steps:
Listen and clarify: Use your 1:1s as a time to listen and clarify. For more, read our post about how to have effective 1:1s.
Debate and decide: These are separate steps in the wheel for a reason! Be clear about when you are doing each in meetings. Get related tips about tightening up your meetings in our post about Leadership Resolutions.
Persuade: Kim mentions Aristotle's methods of persuasion in the episode. You can read more about those here.
More about all of the steps soon! In the meantime, send us your questions about achieving results that everyone can be proud of.